The iconic sails of the Sydney Opera House were lit up with an image of Sikh volunteers who camped in the bushfire-affected areas in Victoria for over two weeks to serve free meals to the people who were displaced owing to the fires.
The projection featured three volunteers of the Melbourne-based charity organisation, 'Sikh Volunteers Australia' preparing meals for the evacuees in the East Gippsland area.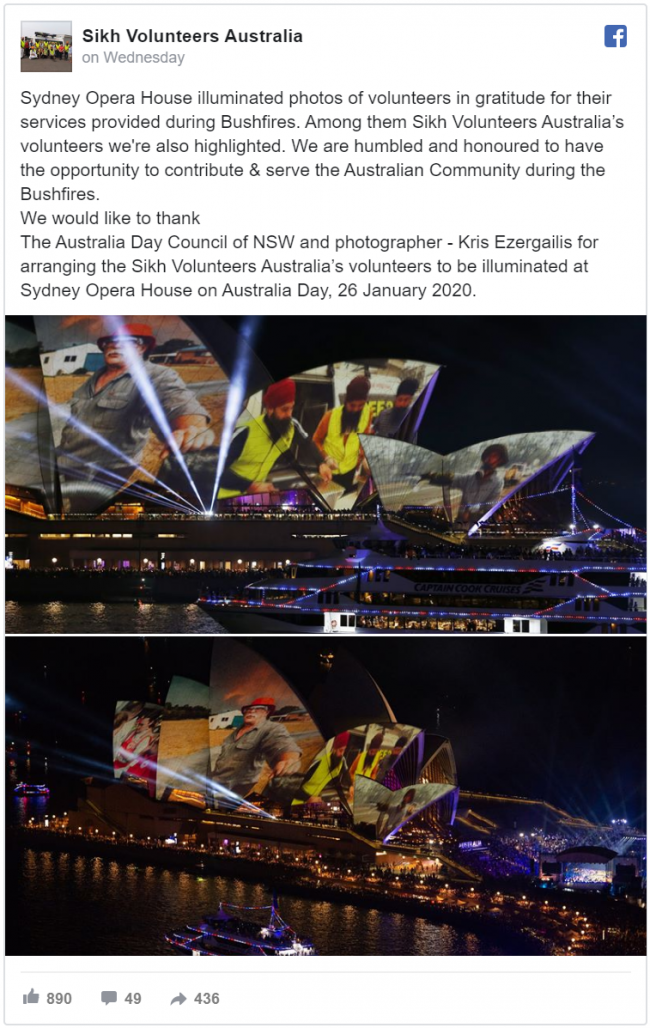 The display was organised by the Australia Day Council of New South Wales and the state government as a gesture of gratitude towards the volunteers who have been helping the affected communities to deal with Australia's worst fire season in living memory.  
Manpreet Singh, a member of Sikh Volunteers Australia, who was part of the team serving bushfire victims said the volunteers were "overwhelmed," by the tribute.
"We are very happy and thankful that the efforts of the Sikh volunteers have been acknowledged and have been widely appreciated by the community at large.
"I believe this acknowledgment would go a long way in encouraging others to take part in such initiatives in the future. This has helped us and members of the community to break many barriers and overcome a lot of misconceptions about each other," Mr Singh told SBS Punjabi.