A new Singapore documentary looks at the life of freedom fighter Bhai Maharaj Singh, whose tombstone now lies at the Silat Road Sikh Temple.
Unless you're a religious devotee or history buff, the Silat Road Sikh Temple at Bukit Merah isn't likely to come up on your radar of places to visit. But within its grounds lies the tombstone of one of Singapore's most intriguing but lesser-known historical figures.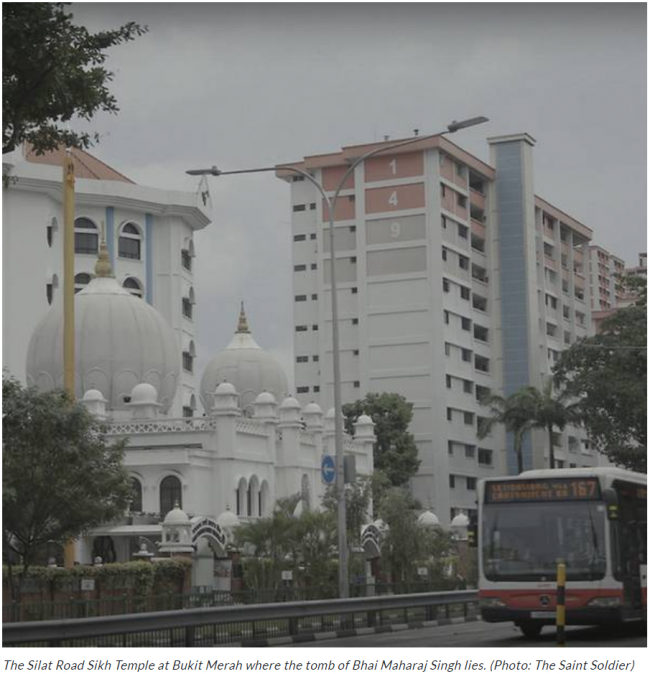 Described as a "freedom fighter" and "saint", Bhai Maharaj Singh is said to be the first recorded Sikh person to have stepped foot in Singapore back in 1850, as a prisoner of the British for inciting revolution back in India.
And now, his colourful life is the subject of The Saint Soldier, a new documentary by Singaporean director Upneet Kaur-Nagpal, who was commissioned to make this film as part of a wider community driven project. Before its official launch in December, there will be a talk and a sneak peek screening of footage on Sep 8 at Fort Canning...
..."Someone actually compared him to Che Guevara when he was fighting the British (in India) – he had this solo renegade guerrilla thing going on and was known for stirring up the masses," she said, adding that as time went by, his aura as a spiritual leader grew, even while he was in jail.
"There are quotes where the British even compared him to Jesus Christ. There were miracles reported and when he died in Singapore. Years later, there were many visitors to his tomb – even non-Sikh visitors like Malays and Chinese," said Kaur-Nagpal, adding that the British had given him special privileges when he was still alive, from extra food to allowing him to send letters home or receive books...
...It's not the first time Kaur-Nagpal has done a film on Sikh perspectives in Singapore. Two years ago, she released Singh In The Lion City, a short documentary about a modern day Singaporean Sikh discovering his cultural identity.
For her, the two films are connected and the story of Bhai Maharaj Singh takes it to the next level.
"We don't have a lot of mainstream coverage of Sikhs in Singapore but we're such a big part of the Singapore Story – there were Sikhs in all aspects of the forces, especially the police. They became well known as jagas and then later got to other trades like being milkmen and money lenders, before they started flourishing further. We have contributed a lot in that respect," she said.
"If doing Singh In The Lion City was about being a Singaporean Sikh, doing The Saint Soldier and going to India and London, I felt like a Singaporean Sikh who was connected to a bigger, global story."
Uncovering The Story Of Singapore's First Sikh – The Saint Soldier will be held on Sep 8 at the Fort Canning Black Box. For details, visit https://www.eventbrite.ca.