As bushfires have raged in many parts of New South Wales, and efforts have concentrated on saving human life and property, Khalsa Aid has found a unique way to provide much-needed assistance to affected animals, when they found out that horses, cows, goats and sheep on NSW farms had to go without fodder for days together.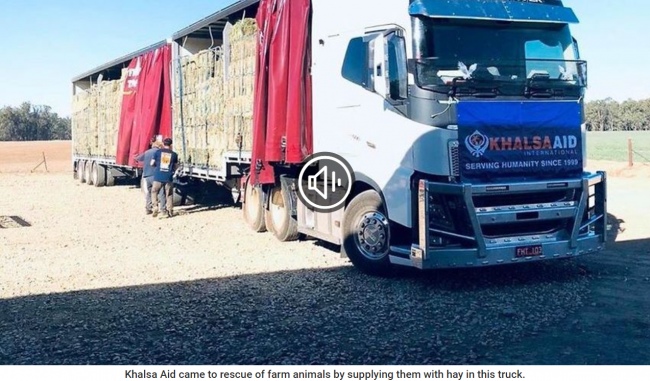 Raging wildfires in many parts of Australia have engulfed a lot of the vegetation that would normally feed animals, whether tame and wild.
Livestock, which has special dietary needs, has felt the heat during the past week, quite literally.
Khalsa Aid, a UK-based Sikh charity which has earned a reputation of responding to people in need, be it victims of wars and those suffering natural disasters around the world, has come to the rescue of farm animals in New South Wales this time around.
Over 60 NSW families who rear over 500 animals have been badly impacted by the bush fires, which have gained momentum over the past week.
Harpreet Singh, a representative of Khalsa Aid Australia tells SBS Punjabi how these livestock farmers suddenly ran out of fodder.
"We went to assess the situation in places like Nymboida, Dalmorton and Nana Glen in New South Wales. On December 1, we provided 850 bales of hay to the local animal farmers after we were told that humans have been looked after well by the local community but their animals were hungry and distressed," says Mr Singh.
A video posted on the Facebook page of Khalsa Aid Australia features a lady named Cathy who was almost in tears as she thanked them for reaching out to the animals of Nymboida.
"To Khalsa Aid, I would just like to say thanks on behalf of the Nymboida community. We've got some of this hay going up to Dalmorton and Buccarumbi, for which they'll also be extremely thankful. We can't thank you enough; our livestock are suffering significantly from these bushfires. There will be tears if we keep going, so thank you," says Cathy, in an emotional video on Facebook.