When the country first went under lockdown in March, Raj Sidhu knew that his Sikh temple in Calgary would have to find a way to keep its free kitchen running.
Like many Sikh temples around the world, the Dashmesh Culture Centre runs a langar – a community kitchen – that provides hot vegetarian meals to anybody who needs one, regardless of race, religion or creed. Since the 1980s, it's provided free food to thousands a people a day, 24/7.
"Early on, when we knew our centre wasn't going to operate like it normally did, but people were still coming for meals, that's when we knew this could be something bigger and a big opportunity to help the community," said Mr. Sidhu, the centre's director of operations.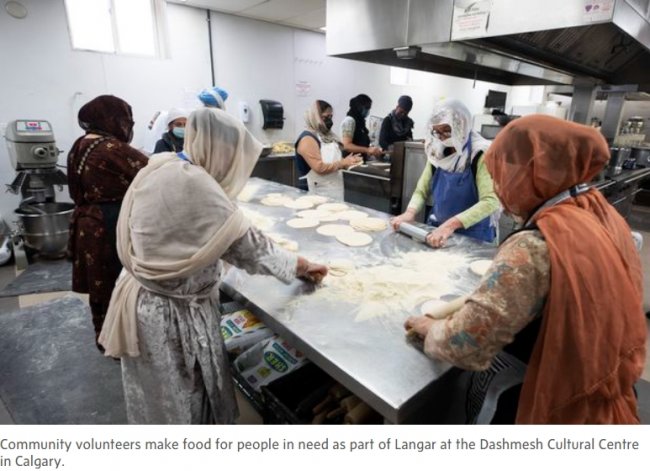 "Langar is a very pivotal aspect of our religion. Nobody should go hungry."
The serving of a free meal is a religious practice woven into Sikh tradition. And now, as people deal with losing their jobs and food banks struggle under the pressure of the pandemic, temples all over Canada are looking for ways to continue the tradition and broaden their reach.
At the Dashmesh Culture Centre, COVID-19 restrictions meant taking things on the road: The temple began offering takeout and delivery. During the first wave of the coronavirus, hundreds of volunteers delivered up to 50 meals a day to people in isolation – some in cities that were nearly an hour's drive away. More volunteers staffed the temple's commercial-sized kitchen and handed out hundreds of meals to visitors through a drive-in service...
Since the start of the pandemic, the temple has provided roughly 80,000 meals throughout the Calgary area, Mr. Sidhu said, adding that the demographic served has grown. Before, most people using the langar were of South Asian descent and would eat after regular visits to the temple. Now the food goes to people from all backgrounds – especially elderly people, students and single mothers. For many, daal, roti and vegetarian curries have never before been part of their diet.
"The food is going to people who really need it, who don't have a regular steady source of food," Mr Sidhu said. "So it's turned into a major food security issue and we're very happy that we can provide for that."...
....Demand at the centre slowed in the summer when the economy was bouncing back, but things are getting busy once again.
"Now with the cases going up again, we've noticed that the demand is still there," Mr. Sidhu said.
He chooses to see the positive in the situation, calling it a blessing in disguise because the wider community now knows that the temple is able to help anybody who is struggling with food insecurity.
"Post-COVID, the message will be there that we're still here to help, that these meals will never stop and if you're in need, please visit us and the meals will be provided."