...Sikh volunteers in New York City, Los Angeles, Seattle and other cities have prepared and distributed thousands of meals from gurdwaras over the past few weeks, according to United Sikhs, the humanitarian group organizing a global langar effort. Volunteers have also delivered groceries to those who call in to a dedicated hotline or request help on a website ― adapting the tradition of langar to a modern-day pandemic.
"Filling somebody's stomach who is in need and who cannot get food, this concept spread in Sikhism from Day 1," Hardayal Singh, United Sikhs' director of advocacy, told HuffPost. "Serving humanity is serving God."
In New York City, the current epicenter of the crisis in the U.S., United Sikhs is part of a group of more than 60 charitable organizations that provide disaster readiness, response and recovery services to communities. In mid-March, Singh said he received an urgent request from the city's Office of Emergency Management for vegetarian meals.
On March 23, United Sikhs volunteers gathered in the kitchen of the Sikh Center Temple in Queens Village to start cooking. Working in shifts and wearing face masks and gloves, they made big batches of rice, chickpeas, mixed vegetables and rasmalai, an Indian sweet. They repeated this days later on March 26. In the end, they managed to pack 30,000 meals, Singh said.
The city then distributed the meals to vulnerable populations, including homebound seniors and those unable to afford meals, a city spokesperson confirmed to HuffPost.
Since then, the Sikh volunteers have been answering meal and grocery requests that come in through United Sikhs' hotline, delivering to homes in New York City's boroughs and suburbs. Singh said the New York City team is delivering more than 500 meals per day...
..."Literally every time you congregate, you're cooking meals," he told HuffPost. "It's such an integral part of our faith."
It's this kind of experience that has made it possible for Sikh volunteers to quickly set up langar after other disasters. Sikhs set up langar in Haiti after the country's earthquake, in New York after Hurricane Sandy and in California after its recent wildfires.
Being Sikh is "not just about the turban and the facial hair or the prayers," Gurvinder Singh said. "It's also about community involvement, community engagement, community activism. That's absolutely a requirement."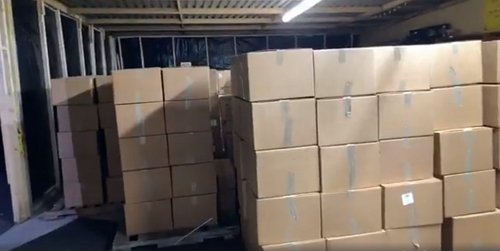 As a result of the global spread of COVID-19, efforts to either pack langar for large groups or organize home deliveries of groceries and other essentials are taking place in India, Canada, Australia and Britain, Gurvinder Singh said.
He said the group has been getting requests for food through its national hotline from states such as Utah and Minnesota, where there aren't large Sikh communities. In those cases, the team scours its volunteer base for local contacts who could step in, he said.
"We can't serve everybody. Probably not. But we'll do our best, God willing," he said.