Fishers resident Gurinder Singh Khalsa will receive the Rosa Parks Trailblazer Award next month because of his efforts in changing the Transportation Security Administration's policy regarding turbans.
In 2007, Singh Khalsa was forcibly removed from the Buffalo Niagara International Airport in New York after he refused to unwrap his turban.
Singh Khalsa was traveling from Buffalo to Sacramento, Calif. when TSA officials attempted to send him through extra security measures for wearing a turban even though he didn't set off any alarms...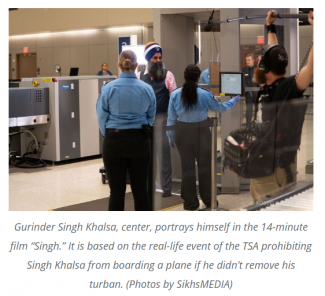 ..."That's the time it kicked in. I said, 'No, somebody has got to stop this and somebody has got to do something,'" he said. "That was our dignity and respect and freedom of faith. When I listened and people were crying, they said, 'Somebody has got to stand up,' and I said, 'No matter what, I am not going to leave any stone unturned until we change this policy."
Singh Khalsa met with members of the U.S. Congress and then traveled across the U.S. to acquire at least 20,000 signatures to change TSA's policy. He collected 67,000 signatures.
"That is why I am getting the Trailblazer Award," he said. "They not only the changed policy, they also had our (Sikh) community people engage with those TSA checkpoints all over the U.S. to give them the training and let them know how we need to be more sensitive and accommodative to the article of faith. That is the beauty. That makes me in my heart feel we are one of the best countries on the face of the earth."...
...A 14-minute film showing Gurinder Singh Khalsa's experience when he was forcibly removed from the Buffalo International Airport for refusing to remove his turban during security screenings is in the works.
Singh Khalsa plays himself in the film. His 14-year-old son, Ajaypratap Singh, plays the younger version of Singh Khalsa. A trailer is expected to be available by Jan. 18.
The film is based on Singh Khalsa's true story of being denied boarding a flight because of his turban. The film is expected to be released early next year.
For more, visit Singh the Short Film on Facebook.