Guru Gobind Singh Foundation
Sikh Kirtan at the Interfaith Concert in Washington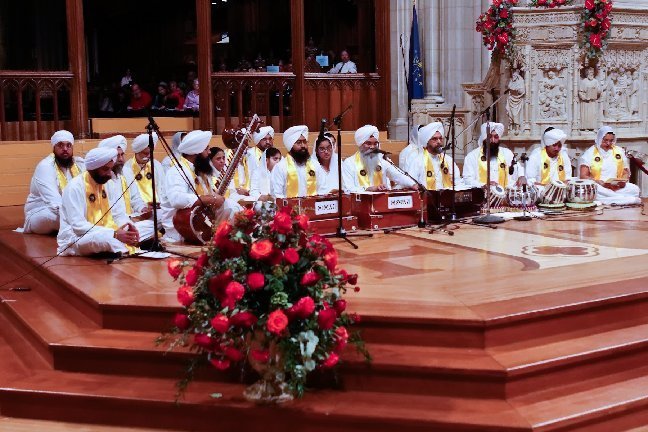 Washington, December 5, 2011 - More than 1,000 persons experienced the sacred songs, dances or chants from five world religions in the heart of Washington, the America's capital. The magnificent building of the Washington National Cathedral was filled with sweet sound of spiritual music of Sikh Kirtani Jatha and many other faith traditions during the 32th Interfaith concert organized by the Interfaith Conference of Metropolitan Washington (IFC). In addition to Sikhs, The Mormon Choir of Washington, the dancers from the United Hindu and Jain Temples Association, the Howard University Chapel Choir (representing the Protestant faith community), the choir of Temple Sinai representing the Jewish religion and the Washington Revels, a musical group of many ethnic groups in Washington participated in this multilingual and multi faith unique program.
The Sikh Kirtni Jatha consisted of 25 men and women who donned spotless white dress with kesri satin palla ( scarf) around their necks with Sikh insignia 'Ek Onkar' looked very majestic. In a melodious tune composed by Dr. Rajwant Singh in Raag Dhanasari, accompanied by talented Tabla maestro Bhai Sucha Singh, they sang in perfect harmony a hymn composed by ninth Guru Teg Bahadur ji. " Kahe Re Ban Khojan Jai.' Ravi Singh started the musical presentation with an alaap on Sitar in Raag Dhanasari and Jaswinder Singh gave a fitting vocal response in the same raag and sang at higher notes.
Bhai Gurdarshan Sang led the singing with sargam and Dr. Rajwant Singh explained that the hymn is written by the ninth Guru of the Sikhs who stood for religious freedom in India and was executed in 1675 for his stand. The melody and mood were perfectly blended to leave indelible impression on the audience. The translation of the shabad was made available to the audience in a program booklet distributed by the IFC. Sikh Jatha entered the hall with a banner of EkOnkar carried by Navjeet Kaur. This is the 24th time that Sikhs participated in this annual program led by Guru Gobind Singh Foundation.
Natannanjali Dance Group presented "Ananda Nartana Ganapatim" choreographed by Lakshami Swaminathan. Swaminathan runs Natannanji School of Dance in Maryland with the objective of teaching and promoting Bharatnatyam, a classical dance form from the Southern India and its origin is traced back through the centuries to the temples of Ancient India, where it was performed as a ritualistic form of worship. . According to Lakshmi Swaminathan, "This style is intricately bound with Hinduism, in particular with Hindu myths and customs."
LaDalle D. Leffall Jr. Senior Professor of Surgery and leading physician in the Washington Medical community and his philanthropist wife ,Ruthie, was the honoree at this year's concert for her involvement in DC Prep, Children's Defense Fund, Black Student Fund, National Gallery of Art and her presidential appointment to the board of Peace Corps.
"Community is created by diversity and that in diversity is the unity that can change the world," noted Rev. Clark Lobenstine, its Executive Director, in his closing comments at the Concert, "and this Concert is our best way of exemplifying this."
Dr. Rajwant Singh, Secretary of Guru Gobind Singh Foundation, Washington, said, "It provided an opportunity for Sikhs to showcase our musical tradition and our rich heritage. We have to be part of these celebrations to make the world a better place for our generations to come"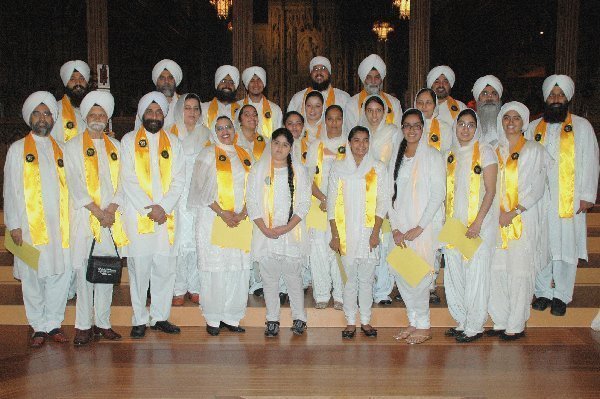 From left to right: Rajwant Singh , Ravi Singh, Inderjit Singh, Ravi Singh, Arvinder Singh, Minoo Nandra, Jaswinder Singh, Amrit Pal Kaur, Preet Amrit Kaur, Guransh Singh, Jasneet Kaur Battu, Manjeet Kaur, Sandeep Kaur, Harjot Singh, Suchinder Kaur Kang, Jagjot Kaur Battu, Dilroop Kaur Sidhu, Sarbjit Singh Sidhu, Hena Kaur Mangat, Dr. Harminder Kaur Mangat, Kuldip Singh Battu, Amneet Kaur Basra, Navjeet Kaur, Bhai Gurdarshan Singh, and Bhai Sucha Singh

Sarabjit Singh Sidhu, Chairman of Guru Gobind Singh Foundation, said, "Our organization has made this participation a top priority because it gives our community a much needed exposure. , The whole event was very thrilling.
Ravi Singh, President of a healthcare IT company and a member of the Sikh group, said, "Every time I have visited and performed at the National Cathedral with the GGSF Kirtan group, it is a new experience. Though each religion is performing and presenting their hymns, dances, and songs, it all starts to sound like one uplifting prayer in the Basilica of the National Cathedral, the one who is the Ek Onkar, the one God, the one Supreme Soul."
"With all the religions coming and performing together truly brings about the melting pot theory to realization and that there is unity in diversity. I think the interfaith conference and the effort by all the participating religions is bringing about better understanding and harmony amongst all of us. Being a Sikh and carrying the message of Guru Nanak Dev Ji to the world outside is always a humbling experience."
Sikhs entered in a procession following the Sikh insignia; photo by Kawal Singh
Jaswinder Singh, Hena Kaur Mangat, Bhai Gurdarshan Singh, Rajwant Singh, and Sucha Singh
 
From left to right: Mrs Lobenstine, Hargurpreet Singh, Amrit Pal Kaur, Ravi Singh, Clark Lobenstine, Rajwant Singh, Surinder Kaur, and Sirmukh Singh Manku
Hindu dancers from Natananjali Dance Group
 
Guransh Singh, 15, playing tabla, Sucha Singh on the left and Amrit Pal Kaur on right
Howard University's Chapel Choir
 
Hindu dancers from Natananjali Dance Group
Three American youth volunteers (Mormons) having fun and posing with the Sikh group
 
Inderjit Singh, Executive Director of GGSF and a member of the Sikh group, said, "It is important that we reach out and build bridges with the wider community in the area. We are often misunderstood and lay people do not have enough exposure of our tradition. It is our chance to show solidarity in building peaceful and loving society in the nation's capital."
Navjeet Kaur said, "It was really uplifting experience to be part of this grand celebration. Events like these provides us an opportunity to show that we are part of the social fabric of America".
First participation of Sikh Kirtani Jatha in 1987 ( perhaps the first ever largest Sikh group to perform)http://www.youtube.com/watch?v=-OOtkLVHXPQ
Imagery by Bill Sanda
----------------------------
Interfaith Conference of Metropolitan Washington (IFC) brings together eleven historic faith communities to advance justice, build community and nurture understanding in the metropolitan Washington, DC region. IFC's members are the Baha'I, Buddhist, Hindu, Islamic, Jain, Jewish, Latter-Day Saints, Protestant, Roman Catholic, Sikh and Zoroastrian faith communities in this region.

Guru Gobind Singh Foundation representing the Sikh faith is the member of the IFC since 1988. Guru Gobind Singh Foundation, based in Washington, is active nationally and locally in different forums on behalf of the Sikhs.
------------------------------
To support the work of GGSF: www.ggsfusa.com
To support IFC: www.ifcmw.org
Photographs by Kawal Singh and Sirmukh Singh Manku
View video of Sikh Kirtani Jatha below: