AMRITSAR: The United States-based Sikh American Legal Defense Fund has launched the first-ever Nationa Sikh American Survey to develop a first of its kind dataset of the community that traces its roots in the US to over 125 years. 
Gujari Singh of SALDEF informed TOI on Tuesday that the aim in launching the survey was to caputure details on demographics, political affiliation, opinions on social issues, personal experiences and behaviours on the Sikh American community...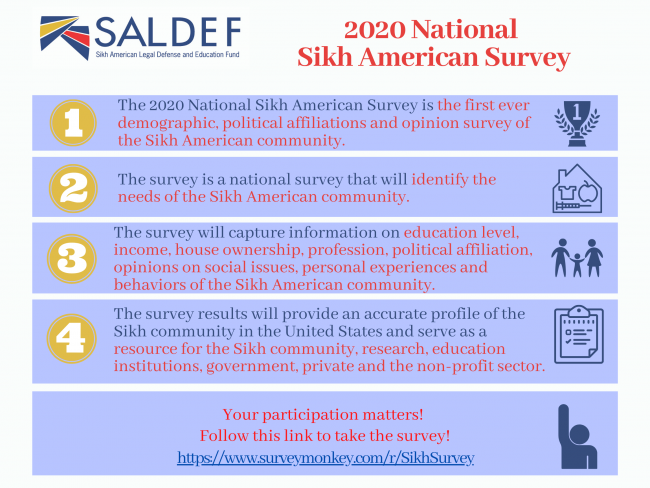 ...He informed that there were an estimated 700,000 Sikhs in the US and gurdwaras across the country. "Despite long history and contribution to the US, the Sikh Americans have been the targets of discrimionation, particularly following the 9/11 terrorist attacks," he said...
...Kiran Kaur, executive director SALDEF, said, "SALDEF's fundamental goal is to ensure that we are providing the resourced needed for the community to excel. This survey will not only help us with our programming but also help to ensure the wants and needs of the community are heard by decision-makers" adding that SALDEF's survey dataset would provide an accurate profile of the Sikh community in the US". 
The survey is now open to Sikh Americans 13 years and older would close on August 9th she added.