New Delhi: "Sewa is not something that is done by counting the number of hours one works in a day because it is not work, it is an emotion. During the Coronavirus induced lockdown, we didn't let anyone volunteer in the preparation of langar. Our staff used to work in the heat for 16 to 18 hours a day. Our President would ask them to take some rest but they would simply deny and say, 'Another hour in the kitchen will mean more rice and daal to serve and in turn more hungry people that we manage to feed. This is the spirit of the Sikhs", said Giani Ranjit Singh, Head Priest of Gurdwara Bangla Sahib.
From celebrations, natural disasters to protests and pandemic, the Sikhs know how to serve people relentlessly and selflessly. Through Langar or community kitchen in Gurdwara and beyond the walls of Gurdwara, they ensure no one sleeps on an empty stomach. The concept of Langar is to serve meals to all, regardless of caste, class, religion, gender, social or economic status or political consideration – especially at a time when it is most critical.
Across the globe, the Sikh community has been altruistically feeding the hungry and their role has doubled up in the recent past. While the world fights the Coronavirus pandemic, the Sikhs are helping people overcome hunger and humanitarian crisis. When asked what keeps them going, Giani Ranjit Singh said,
"It is the love, devotion and faith that gives strength to the Sikhs."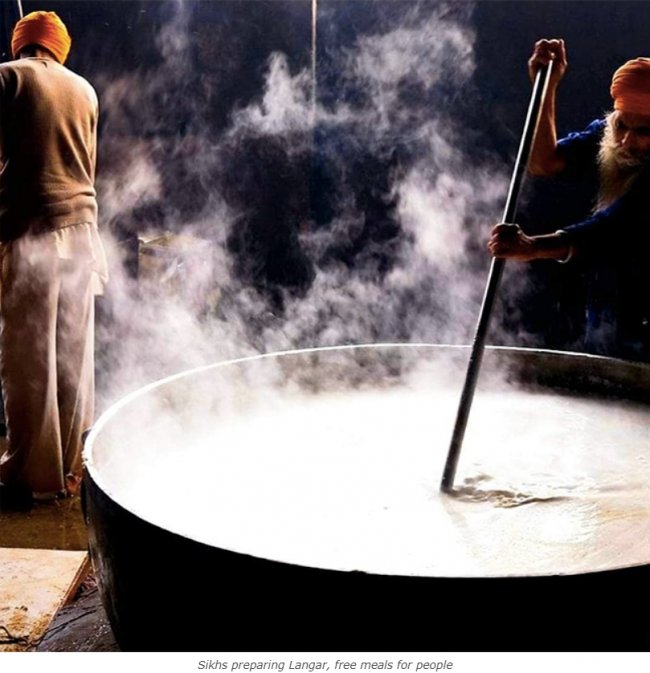 NDTV spoke to Manjinder Singh Sirsa, President of the Delhi Sikh Gurdwara Management Committee on how they ensure no one goes hungry and the kind of difficulties they are facing during a pandemic. Mr Sirsa said,
"In the past, we have faced flash floods, earthquake and all other kinds of calamities and challenges but the pandemic came with a different kind of challenge. During COVID-19, people are more scared of hunger than the virus. People are willing to work, earn and put food on their table but they lost their means of livelihood during the lockdown. We saw people starving, children crying for food. While we extended the help, one of the challenges for us was to protect our staff and volunteers who fearlessly served people. By god's grace, we have served over 1 lakh people every day." 
The Delhi Sikh Gurdwara Management Committee (DSGMC) through its network of Gurdwaras in the capital including Gurdwara Bangla Sahib has fed over 1.5 million people during the lockdown. DSGMC extended the langar service beyond the four walls of Gurdwara by introducing 'langar on wheels'...
Langar on Wheels: We promise Delhi no one would sleep empty stomach. We have flagged off 14 new vehicles today to distribute Langar to the needy & helpless in different parts of Delhi@ANI @punjabkesari @thetribunechd @ZeeNews @republic @TimesNow @ABPNews @PTI_News @News18India pic.twitter.com/rxsFRJ2aKo

— #Istandwithfarmers Manjinder Singh Sirsa (@mssirsa) June 1, 2020
...In July, DSGMC scaled up its efforts to help COVID-19 patients by providing them with a free ambulance service. On July 14, on the occasion of Guru Harkishan Sahib Ji's Prakash Purab (birthday celebrations), DSGMC flagged of 12 ambulances to facilitate transport of COVID-19 patients to the nearest hospital. Talking to NDTV about the idea behind introducing this service, Mr Sirsa said,
"We, the 46 elected members of DSGMC were getting calls from locals telling us that ambulances are not available and asking for help. We all know that the timely availability of ambulance is crucial to saving lives. It's then that we decided to address the problem and hired 12 ambulances dedicated to the national capital."
Ambulance Sewa done last night by DSGMC from Uttam Nagar to the Hospital pic.twitter.com/d8PYV9rYFP

— #Istandwithfarmers Manjinder Singh Sirsa (@mssirsa) July 16, 2020
DSGMC's ambulances are stationed across Delhi and the service can be availed by either contacting any of the Gurdwaras in Delhi or elected members of DSGMC or call the central control room which has been set-up at the office of DSGMC (9891403828/9953086923).
Recently, the Gurdwara Bangla Sahib even opened pharmacy to provide medicines at subsidised rates. Almost all the medicines at 'Bala Pritam Dawakhana' are being sold at factory prices. For example, tablet Armotre, a cancer medicine costs Rs. 628 at a regular pharmacy whereas at the Bala Pritam Dawakhana, it is priced at Rs. 300, antacid medicine Pantosec costs Rs. 138 but at Gurdwara Bangla Sahib it is available for Rs. 16.80...
...Sharing an example of how the Sikh community is promoting the message of environment protection and conservation, Mr Sirsa shared the message of Guru Nanak Dev Ji who once said 'Pawan Guru Paani Pita Mata Dharat Mahat'. The saying literally translates to – the air is our teacher, water is our father and Earth is our mother. Through his message, Guru Nanak Dev Ji urged individuals to take care of air, water and mother Earth just the way they would fend for their parents and teacher. Taking the message of Guru Nanak Dev Ji's to the millennials, DSGMC has mandated all freshers at colleges run by DSGMC to plant 10 trees during the first year of their college.
Mr Sirsa said, ego and pride are the most dangerous vice of humans and it's these vices that are killing the environment. Mr Sirsa called to imbibe the lessons given by Guru Nanak Dev Ji, and ensure health and hygiene.