(RNS) — On the second night of last week's Democratic primary debates, Sen. Kamala Harris grabbed the national spotlight when she challenged former Vice President Joe Biden over his past opposition to federal busing and his collaborations with segregationist lawmakers.
But for Rajdeep Singh Jolly, a Sikh and a lawyer in Washington, D.C., the confrontation brought to mind Harris' own civil rights record — one that many Sikh activists around the country remember as being less than perfect.
"She accused Joe Biden of being weak on civil rights, but I think that was being disingenuous," Jolly said. "If she's going to call out other candidates for their shortcomings on civil rights issues, she needs to own up to her own mistakes."
More than 600 people have signed on to an online petition Jolly launched last week asking Harris to apologize for her 2011 defense of a policy that prevented state prison guards from keeping beards for religious reasons — a policy that later provoked a U.S. Department of Justice civil rights investigation.
ust three days after she was sworn in as California's first Indian American attorney general – Harris is half-black, half-Indian – she argued to dismiss a lawsuit filed by a Sikh man denied a government job because of his beard.
"At a time when Sikhs were struggling against discrimination in the post-9/11 environment, she could have used her discretion as attorney general to expand equal opportunity for Sikhs and other religious minorities who wanted to serve as security officers in her state," Jolly said.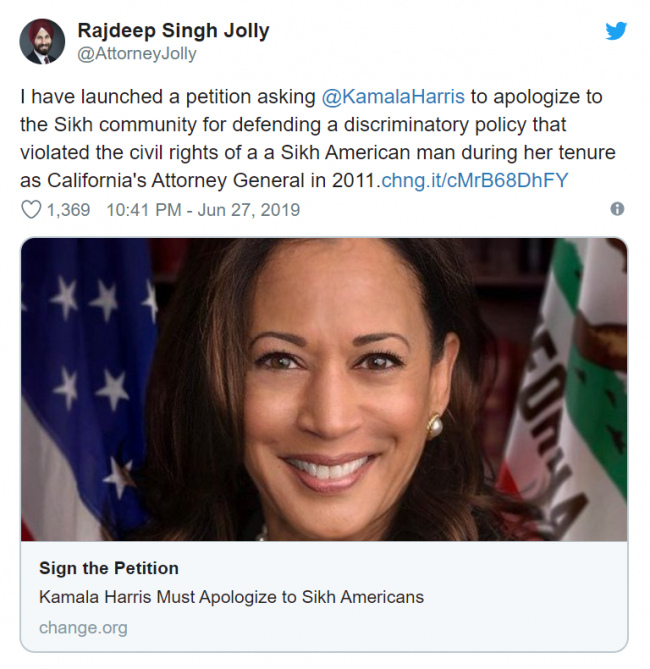 Trilochan Oberoi, a former commander in the Indian navy, had applied to be a state corrections officer in 2005 and completed the various evaluations and background checks required for the job. But when it came time for the medical exam's mandated gas-mask fitting, his lawyers said, the California Department of Corrections denied him the position because he refused to shave the facial hair required by his faith.
When Oberoi appealed, an arbitration board ruled in his favor that the agency had discriminated against him by making "no effort" to consider alternative accommodations, such as allowing him to wear a tight-fitting mask.
Oberoi reapplied for the position and was again denied. He then sued the state for discrimination.
In Sacramento County court filings, Harris backed the agency, arguing that Oberoi couldn't be properly fitted for a gas mask unless he shaved and that no exception to the rule had been made since the policy came into effect in 2004.
"Watching her during the debate, it was like there was a complete disconnect with her record and the intentional actions she took to discriminate against a Sikh man in California," said Winty Singh, a Los Angeles-based health care administrator who blogs about Sikh American issues and helped lead the petition. "It just reeks of discrimination, and it was alarming to me as a fellow Sikh man with a beard in California."