Hospitals are treating almost twice as many girls for self-harm as they did 20 years ago, prompting warnings about the pressures that social media and school work are putting on young people.
Charities called the figures heartbreaking and told The Times that more needed to be done to stop children reaching crisis point.
The number of hospital admissions for girls who self-harmed jumped from 7,327 in 1997 to 13,463 last year. The number treated for attempting an overdose rose more than tenfold from 249 in 1997 to 2,736 last year, according to NHS data that has been published by ministers. Admissions of boys for self-harm stayed broadly constant, from 2,236 in 1997 to 2,332 last year. The number attempting an overdose jumped from 152 in 1997 to 839 last year.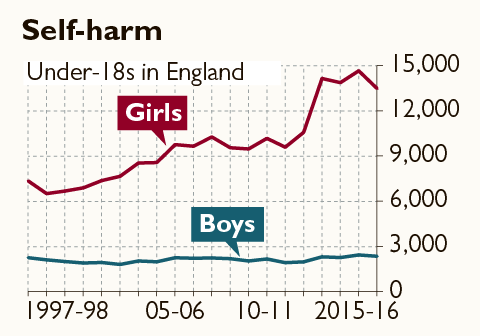 Despite the growing problem of self-harm, ministers have conceded that treatment for mental health issues is worse than for physical illnesses.
Jon Goldin, vice-chairman of the child and adolescent faculty at the Royal College of Psychiatrists, said: "I think there are a range of factors putting pressure on young children — academic pressures, exam pressures, social media . . . with fear of missing out and comparing yourself unfavourably to images you see online."
Asked why the proportion of girls self-harming appeared to have risen sharply, he said: "If you look at social media, my hunch is that girls are probably more sensitive to some of those factors than boys." There were also "completely unhelpful" groups online that urged teenagers to self-harm.
There were also warnings that the link between teenage girls self-harming and them having suffered violence must not be overlooked.
A Department of Health and Social Care spokesman said: "Making sure children and young people have the right mental health care when they need it is vital.
"That's why we are investing an extra £300m to provide more help in schools, which will include trained staff to provide faster support to children. But we want to go further – we've extended our pilot scheme to deliver training in 20 more areas of the country this year to improve links between 1,200 schools and their mental health services, and, as part of our long-term plan for the NHS, we will announce more on how we will improve mental health later this year."
It emphasised that figures for admissions did not represent the number of patients treated because some were admitted more than once within the period. The figures also now include those treated at private hospitals.
The government expanded the scope of the National Suicide Prevention Strategy in 2017 to include addressing self-harm as a separate issue.
It is also investing £247m to put mental health liaison teams in A&E departments by 2020 and has pledged a total of £1.7bn on improving young people's mental health and wellbeing.
NOTE: In the UK, Samaritans can be contacted on 116 123 or email [email protected]. In the US, the National Suicide Prevention Lifeline is 1-800-273-8255. In Australia, the crisis support service Lifeline is 13 11 14. Other international suicide helplines can be found at www.befrienders.org.