Rupi Kaur
At the Rose Theatre in Brampton on Thursday
On Thursday night in Brampton, Rupi Kaur returned to the same stage she'd walked across at her high-school graduation. Instead of a diploma, she now held her two books of bestselling poetry and the attention of 800 people – mostly women in their early to mid-20s, who cooed over Kaur's every word, applauded after each poem (even if the poem was just one line) and traded, in awed whispers, sentiments like "This is so true."
Standing inside a circle of flower petals, Kaur performed a generous selection of poems from her second collection, the sun and her flowers, a mainstay of bestseller lists since its publication in October 2017. Her 90-minute set also included material from its predecessor, milk and honey, which has sold more than three million copies. The homecoming was triumphal for both Kaur and Brampton, her first GTA date since the book's commercial explosion. The return to her city – and the large contingent of her friends and family in the crowd – let Kaur relax back into her hometown persona, dropping local references to Costco and SilverCity, names that didn't always garner laughs of recognition during her nine-month international tour.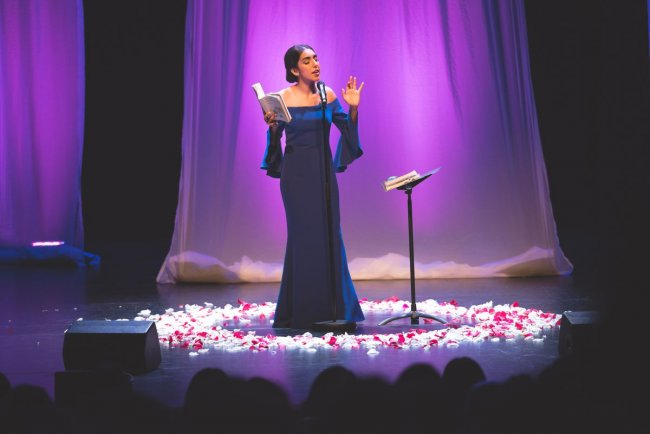 The performance was in celebration of Sikh Heritage Month – Kaur's second time participating in the event – as well as her induction into the Brampton Arts Walk of Fame. She is in esteemed company: The other 2017 Walk of Fame inductees are Director X (director of music videos for Kendrick Lamar and Drake, among others); Zarqa Nawaz (creator of Little Mosque on the Prairie) and the late William Perkins Bull, a historian of Peel County. Brendan Healy, the Rose Theatre's artistic director, praised Brampton's diverse young creators as a community of "doers," amid which Rupi Kaur is "exceptional, but not the exception."
The stage setup was minimal – a series of sheets cascading to the floor behind the poet; her feet ringed by flower petals – allowing Kaur's confidence to come to the fore. Onstage, she switches between slam-poet theatrics – swaying body, spiralling hands, a vocal intonation that's all breath and artful rasp – and more casual, between-poems banter that expands on the themes of her work: love, loss, trauma, femininity and migration. The spoken-word affectations sometimes feel...