Five years ago, Parwish Kumar left his home in Helmand, Afghanistan, in the dead of night. He did not want his neighbours to notice. "My father needed blood," says the Afghan Sikh. "But everyone refused. No one wanted to give blood to a kafir." His father later died in hospital.
"Those who have been left in Afghanistan are just waiting to leave," says Kumar, who now lives in Delhi and is waiting to find a home in Canada...
...After videos of the terrorist attack went viral, the global campaign to save the Sikhs in Afghanistan was intensified. At the helm of this effort is Canada, which is emerging as the promised land of Sikhs. Jagmeet Singh, the leader of Canada's New Democratic Party, tweeted, "The plight of Afghan Sikhs and Hindus is one of tremendous suffering....", and called on the government to save their lives...
...There is precedent for Canadian concern. In 2015, Manmeet Singh Bhullar, the first turbaned Sikh to hold a cabinet rank in Alberta, started a project to help 250 Sikhs in Helmand leave. Kumar's was one such family.
Later the same year, Bhullar died in a road accident while trying to help a motorist, and his siblings took over the Manmeet Singh Bhullar Foundation. "We have helped 250 people [leave] the province," said Tarjinder Bhullar, his sister. "That roughly translates to 65 families. Sixteen of them have since come to Canada." The foundation provided the families with passports, visas, tickets and even homes in Delhi.
Bhullar is not the only one. United Sikhs, a UN-affiliated organisation, has been helping Sikhs in Afghanistan since 2012, and has now stepped up its campaign. "We have launched a parliamentary petition," says CEO Jagdeep Singh. "Unfortunately, with Covid-19, the parliament is not in session."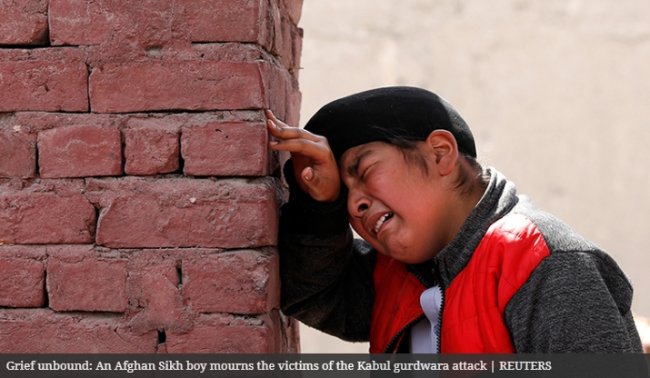 There is also a letter-writing campaign, wherein ordinary Canadians urge their MPs to take a stand. The idea is to liken their situation to that of Syrian refugees and point out the discrimination. "We are working with the US state department, too," says Singh. "Our hope is that we can get a country like India or Pakistan to take the Sikhs, till they are granted immigration in Canada."One of the big drawbacks, he admits, is the processing time. "It takes five or six years," he says. In this time, families keep waiting. United Sikhs is hoping to at least push for a faster process of under a year...
...Over the decades, Sikhs and Hindus have fled the country, the numbers dwindling from 25,000 to only 850. Yet, there are two Sikhs in Parliament. Anarkali Kaur Honaryar, the first non-Muslim woman, and Narendra Singh Khalsa. "This also riles the IS-K," says Taneja.
Narendra's father, Avtar Singh, was killed in an IS-K attack in 2018 when he was on his way to meet Ghani. "The Islamic State is a good brand to band under," says Taneja. But while the group has taken responsibility, it is not black and white, he argues. "The umbrella organisation of the IS, like in Iraq and Syria, does not exist in Afghanistan. There was an internal feud in 2015-16, where the Pakistan-backed people from LeT (Lashkar-e-Taiba) had started [executing] much more orchestrated attacks with ISI (Inter-Services Intelligence) backing." The targeting of Sikhs, says Taneja, serves the purpose of both splinters. "It serves the theological purpose. They are kafirs and must convert or accept death. It also antagonises India," he says...
..."Sikhs in Afghanistan are Afghans and they have equal protection of local law," says Amar Sinha, former ambassador to Afghanistan. "While they were harassed and stigmatised during the Taliban regime, the democratic governments of Afghanistan have made sure that they feel at home. Some social prejudices persist though. Sikhs, like other minorities, and countless other hapless Afghans, are all easy targets for the terrorists, who seek cheap publicity through such acts."
However, there is still hope. There are Muslim organisations that have come forward with offers to rebuild the Har Rai Sahib Gurdwara. And, the polarisation apart, the Sikhs and Hindus have left indelible marks on the Afghan landscape. In Gardez, Amardeep Singh, who is making a documentary called Allegory—A Tapestry of Guru Nanak's Travels, stands at the spot where a gurdwara once stood. "A man came up to me and asked me to get the Sikhs to come back to reconstruct the gurdwara, so that he could eat the langar that he once ate as a child," says Amardeep. In his journey across lawless Afghanistan, Singh found many such remains of a pluralistic past that have now become folklore.
And then there are those who refuse to leave their homes, even if it means being killed. "What is there to be scared of, once you have lost your loved ones?" asks Preeti. "My father was martyred and he said he was born here and would die where he was born. I am not afraid."