HOUSTON - It's been a year since Harris County Deputy Sandeep Dhaliwal, passed away.
According to investigators, Dhaliwal, 42, was conducting a routine traffic stop Sept. 27, 2019 around 12:45 p.m. when he was fatally shot by Robert Solis. A special memorial was held in Houston on Sunday, commemorating the 42-year-old's life and legacy...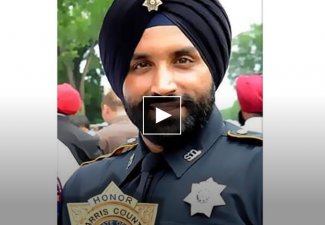 ...This was important because in the Sikh faith, the turban is a symbol of justice and equality, which is what official members in the San Antonio area said Dhaliwal truly represented. Additionally, paving the way for other members of the Sikh community to enter into law enforcement.
"He fought to change the regulations there to allow us to bring our articles of faith in the workplace and this was a major milestone and win for our community," said Gurpaul Singh, Director of Community Outreach of Sikh Dharamsal of San Antonio. "His turban and his beard stood for justice, equality and tolerance and he made it well known to the community there what we stood for so he was a real trial blazer for our community."
Across Texas, even in San Antonio, deputies and members of the Sikh community mourned the 42-year-old's death.
"History will always remember him as a wonderful Sikh who gave his life in the principles we believe in," Sikh Center of San Antonio President Balwinder Dhillon said.