"Seva" is alive and well in Pacoima.
Every day it's what fires up the giant cooking containers full of rice and pasta. It's what powers the assembly lines of volunteers from all over Southern California who package meals — curry, thai, pasta and a sweet treat with a bottle of watter —  atop rows of tables.
It's what gets those meals to households from Palmdale to Long Beach to Pasadena and Los Angeles, where the pandemic still draping the region has crushed livelihoods, left families struggling and kept seniors and disabled isolated.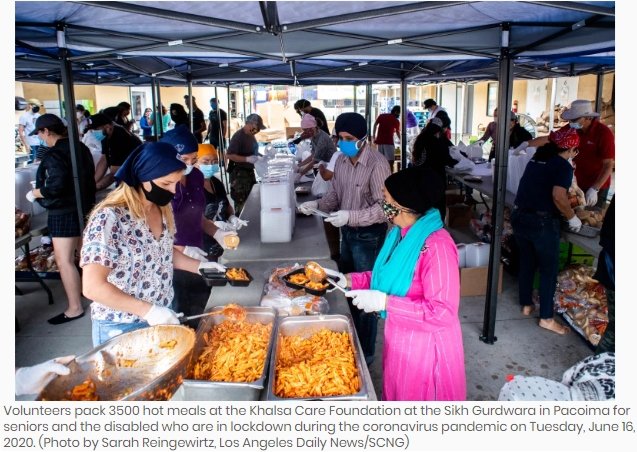 Seva —  or "selfless service" — is happening at the Khalsa Care Foundation Gurdwara — a Sikh temple that's served the area for 15 years.
The massive amount of food prepared and distributed every day here is nothing new for a community of faith whose tradition of selflessness goes back centuries. They know how to feed the world, and it's happening from New York to India. Amid the chaos of COVID-19, and even among deep social pain and unrest sparked by the death of George Floyd, local Sikh Americans have found renewed energy, across the Southland and also just off Laurel Canyon Boulevard in the northeast San Fernando Valley...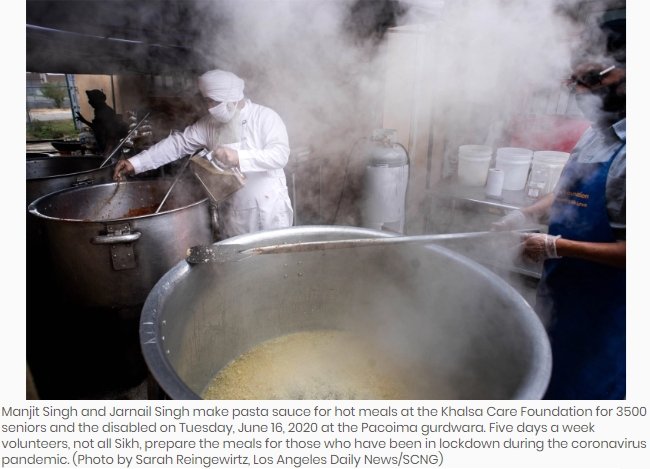 ...A national 2013 survey of public perception of Sikh Americans conducted by Stanford University and the Sikh American Legal Defense and Education Fund, found then that about half of the public associated the turban with Islam and believes that Sikhism is a sect of Islam. A 2012 study by the Sikh Coalition found that 67% of students wearing turbans were bullied in school, compared with the national average of 32 percent of all children ages 12 to 18, according to the National Center for Education Statistics.
Singh gets it. He's lived it. He acknowledged that that little sticker on each meal box is a symbol that yes, his community wants to be known as among those who can be relied on for help when things go awry in the world. His own center notes that the holiest temple for Sikhs, the Golden Temple in India,  80,000 people are served free vegetarian food daily.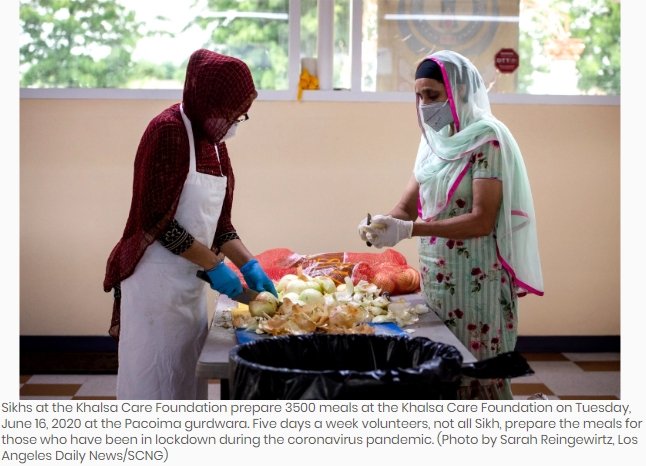 It's a big reason why Singh's father, Gurdip Malik, president and founder of the foundation, helped lead the effort to enter a Sikh float in the Rose Parade — in what has become an annual tradition over the last several years.
To educate.
On Monday, after LADOT buses had picked up loads of meals to distribute, morning acitivity had died down a bit at the center.
In the quiet of the gurdwara, a man's voice could be heard humming scripture of a religious text. And in a room nearby, volunteer Jaspal Kaur summed up the moment and the purpose.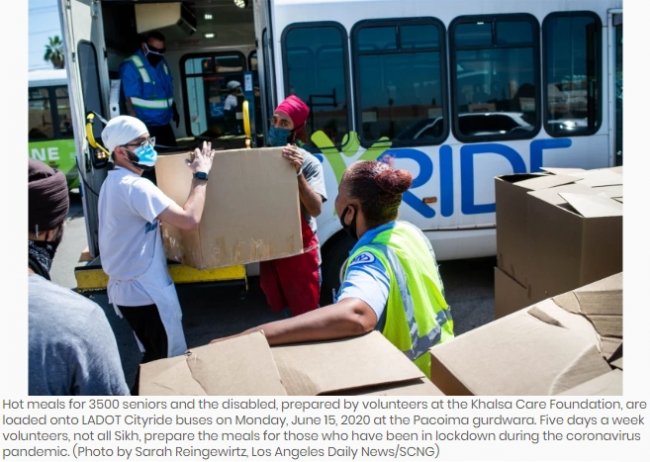 "It gives us satisfaction when we don't just think about ourselves, and when we think about others, too," she said. "If someone is hungry, we share with them, too. And we also feel in our heart, happiness. We believe in humility, and that we are all God's people."