Across the UK children have been raising awareness about farmers protests in India and the impact they are having on their families and the Sikh community.
For more than a month, tens of thousands of farmers, mainly from Punjab and Haryana, have been camping out at various borders in Delhi protesting against government reforms on farming laws in the country....
...It has also become a talking point in some UK schools, with many Sikh children bringing the protest online using #istandwithfarmers.
So, why has a row thousands of miles away captured their attention and how are they using artwork and billboards to raise awareness?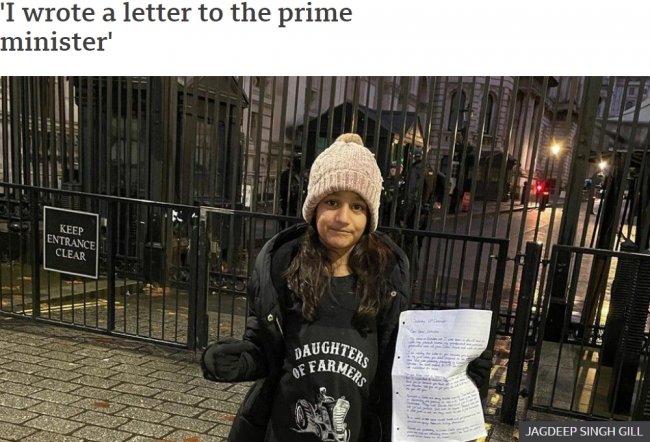 Eight-year-old Ashleen Kaur Gill, from Windsor, Berkshire, has family in Ludhiana, in the state of Punjab, who rely on their wheat and rice farm as their main income.
She has been posting videos on social media to raise awareness and has also written to Prime Minster Boris Johnson calling on the UK government to intervene.
"We need his support and he needs to tell the Indian government to stop," she said.
"It's sad to see [the farmers] are not being treated fairly... This will have a big impact on my family and it could end farming for the smaller farmers.
"I want to be able to go back to India to see my family and wish for a long life for farming. It's because of them I am thankful for the food on my plate."...
...Asheen's father, Jagdeep Singh Gill, said it was his "duty" as a parent to talk about the protests with his children, and he was "overwhelmed" by Ashleen's "passion and enthusiasm" to stand up for farmers...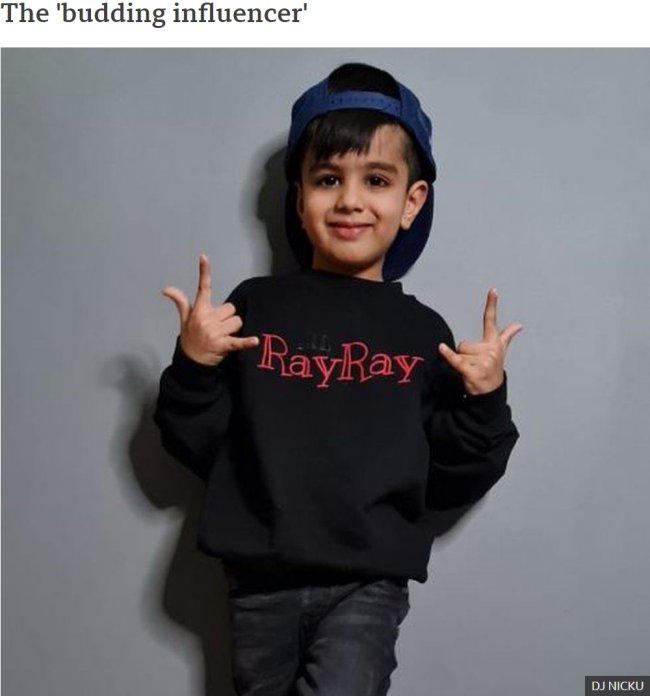 ..."I won't get food if farmers can't grow and sell food," said Lil Ray Ray, of Wolverhampton, who has 26,000 followers on an Instagram account run by his father DJ Nicku.
The six year old has been using the platform to make videos on the issue and was chosen as the face of a billboard campaign across the West Midlands in support of the farmers.
"My family are from Bilga and Nakodar in the state of Punjab," he said.
"Farming is in our roots, we grow fruit and vegetables.
"It upsets me to see how farmers are being treated in the protests.
"I have great-grandparents who were farmers and it's because of them I am here today."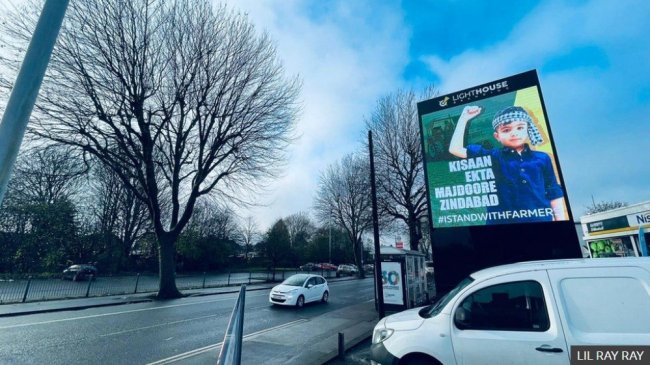 The billboards he appears on, which are owned by Lighthouse Outdoor Digital Media, bear the message "Kisaan Ekta Majdoore Zinabad", which translates as: "Long live unity between farmers".
Describing Lil Ray Ray as a "budding influencer", the firm added: "We hope to have achieved more exposure for such an important cause, especially during these tough times."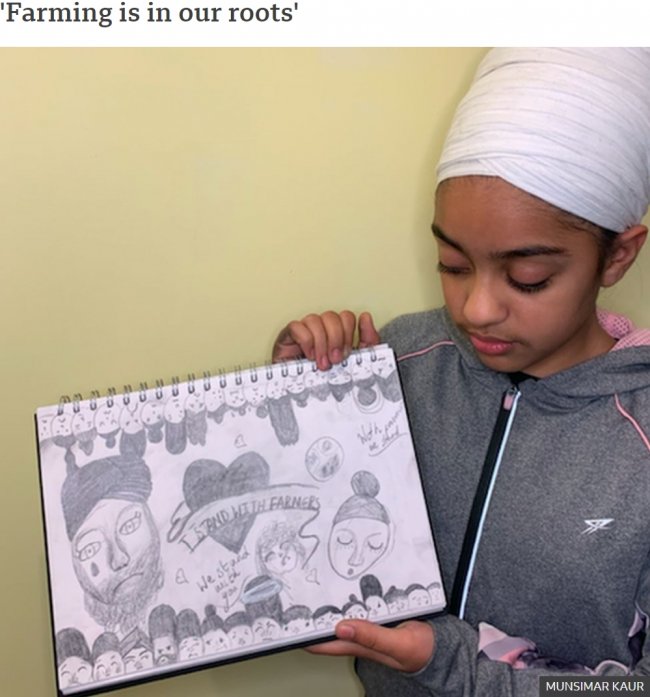 "These are our people and Punjab is our motherland," said 11-year-old Munsimar Kaur, from Woolwich, east London.
She has been posting pictures of her creative artwork on social media using the message: "We stand with those farmers protesting to save our heritage".
Her grandmother, who is in her 90s, had been farming on her family's land in India up until recently.
"Farming is extremely important to our family - both sets of my grandparents were born and raised in that environment, so were their parents and so on. It's a profession that's been running through our family for generations, " Munsimar said.
"I feel it is so unfair that those who will benefit from these bills will never have to worry about food on their table for generations to come but the farmers of India, at the hand of these people, will not know where their next meal will come from."...