When Amritvir Sekhon and eight other Sikh men and women drove into Bairnsdale in the middle of the worst bushfire crisis in decades, locals didn't know what to think.
"They had never seen turbanned men with long beards before – we probably looked pretty alien from them," Sekhon says.
They were from the United Sikhs, a global aid organisation associated with the UN, with a growing presence in Australia.
"They were thankful that we were there, but they weren't really sure if they could rely on us or what our agenda was."
As soon as they arrived the small group set up shop, cooking thousands of free hot vegetarian meals for those who lost their homes in January's Gippsland fires and were sheltering in the town.
"We're pretty redneck up here," says Leanne Jennings, who runs the Bairnsdale Neighbourhood House.
"So to have people from different cultures come along and help us out in our town was amazing. It certainly does break down some barriers."
"They made thousands of meals … there was so much rice, we broke a table because there was so much rice on it."
The team, which soon doubled, stayed for 17 days, sleeping at the community house and working from dusk till dawn preparing meals and helping the Salvation Army sort donations...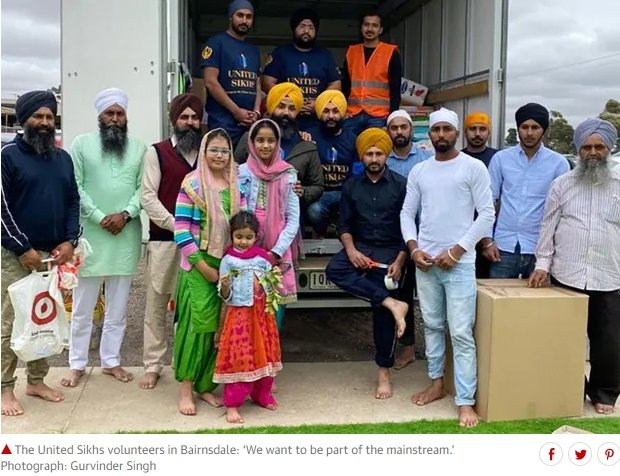 ...Jatinder Singh, a master's student at Victoria University, lost his job at a restaurant when the lockdown began and, within a few weeks, he and his roommates were struggling to buy food.
"I was still having to pay rent and pay my university fees … We thought we might need to cut out our meals," he says. "I was thinking like, 'Man, I'm gonna have just one meal a day.'
"I was thinking maybe I can get some money from family back home but in India it is worse, they have lost their jobs and, with the lockdown, they can't even get to the bank … I can't even fly home".
Jatinder found the United Sikhs through Facebook, filled out their form and the next day two bags of groceries were dropped off at his door. "To be honest I was crying … it's been really really bad."
The student is Sikh himself but the vast majority of the students and families they have fed are not.
Though religious-based charities are commonplace, Sekhon says sometimes people worry that the United Sikhs have ulterior motives for helping.
"It has come up and we have been addressing it, but there are no pamphlets or anything that we are handing out that tell people who we are, or anything that could possibly try and convert anyone at all," Sekhon says. "If people have questions then we will answer them, but that's all."
Singh says the organisation is working to become more widely accepted within Australia.
"We want to be part of the mainstream. People do look on us in a different way but we want to just remove those differences. Like, 'Hey, we look different but we want to be part of the community, we want to help create a better community for the future.'"
While some Bairnsdale locals were tentative at first, Sekhon says by the end of the bushfire crisis his team were part of the community.
"For the first two or three days, it was about building the relationship but then we mingled in together and it was sort of like a family situation," he says. "By the end we didn't want to go back, even though we had family waiting for us. It was like a second home for us.
"We still get messages saying thank you and people posting to Facebook to remind others that if they are ever in need that the Sikh community or your local Sikh temple will give you whatever you need, or whatever they possibly can give you."
With those in power failing us …
… at this historic moment, we demand better. From the coronavirus pandemic and police brutality to the marginalisation of minority communities around the world, leadership is broken. Devoid of the humility and inclusivity we so desperately need, and given to narcissism, leaders are gambling with public health, safety and the future of younger generations. They unapologetically prioritise serving themselves over the people they were elected to serve. We have to make them raise their game...