After a chance encounter with Simranjeet Singh while on her first visit to India in 2016, Theresa Anderson soon 'adopted' him as a son, and his family as her own. She visited the family in Punjab in 2017 to attend Simran's sister's wedding, learning some basic Punjabi words before going over. She is now determined to speak the language fluently to welcome the Singh family to Sydney, when they visit her on their first-ever overseas trip in 2020.
"Sat Sri Akal ji", said Theresa Anderson buoyantly, when SBS Punjabi reached out to her to find the reason behind her strong desire to learn the Punjabi language. 
"It is very early days for me and I'm finding it very hard. Especially at my age, because I've never learnt another language before, other than a bit of French at school many years ago," she said. 
"But I'm committed to learning Punjabi this time, so that I can welcome my adopted family to Sydney next year. They treated me like a queen when I stayed with them at their village, and I want to ensure this trip will be memorable for them. They are a beautiful family of wheat farmers in Punjab, and this will be their first ever trip away from home."...
..."I had gone to Goa where I met with an accident, and this lovely young man (Simran) helped me. He was studying for the merchant navy, and we stayed in touch." 
The acquaintance grew into friendship, and soon she 'adopted' Simran's family as her own.
"I started FaceTiming him and his family, and soon we became an integral part of each other's lives." 
In 2017, Simran's parents Satinder and Sarabjeet invited Ms Anderson to attend their daughter's wedding in India. That's when she travelled to their village Dhanauri, in district Ropar of Punjab...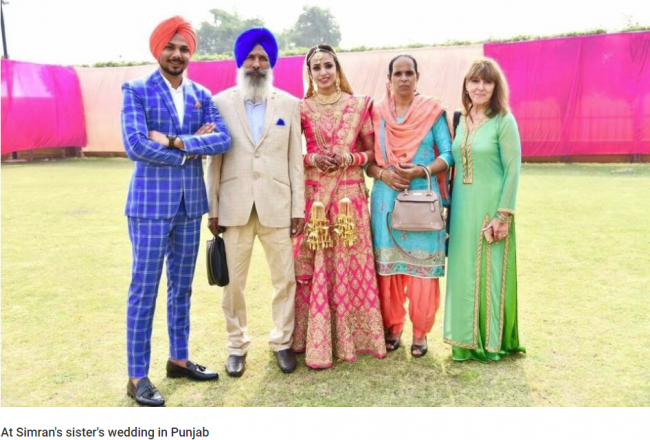 ...The family shares such proximity with her now that Ms Anderson is called 'Aussie Mum'.
"Simran's parents address me by my first name and also Aussie Mum, and I call Sarbjeet Punjabi Mum. Satinder has a lovely sense of humour and again international language came into play. Whilst I was very spoilt, I learnt a lot about the culture, history, the Sikh religion and politics." 
"The respect that Punjabi youth, in general, give to their parents and particularly within this family, had me in awe. I stayed for a month in India, attending the marriage functions and a week more with the family. I travelled to McCleodganj and to Goa and then came back to stay a few more days with the family."
After that, Ms Anderson visited India again when Amrinder had a baby. 
"There was an addition in the family and I stayed with them again. After this, I thought I should get serious about learning Punjabi. It was difficult finding a tutor/teacher and so this time I'm using an App. It's not totally accurate, but its a good start."
"The prospect of the parents coming here is a totally new motivation and it's an opportunity for me to repay the hospitality."  
"So I'm now on a mission to speak Punjabi and keep our friendship growing. I loved my time in Punjab, the generosity and kind nature of the people was very heart-warming."