Inderjit Singh Kallirai's white whale was a performance of bhangra on ice. Four years ago, he was in talks with the San Jose Sharks to stage just such a performance between periods of a game. Having set up similar events in NBA arenas, he knew that bhangra, with its high-energy beats and whirling dance, could electrify the crowd.
The issue was this: How do you dance on ice? One idea was to lay mats over it, but the Sharks worried that might damage the playing surface. Then the kids, the troupe of dancers Kallirai had found, rebelled. "They turned around and said to me, 'Uncle, you can't do bhangra on ice'," says Kallirai, now a 61-year-old retired state employee in Sacramento, says. "'Bare feet and ice don't mix.'"
There was a long back-and-forth, and the dance didn't pan out. But it did break the ice, in another sense. In March 2017, the Sharks became the first NHL team to host Sikh Heritage Night. A few hundred community members, many of whom had never watched hockey live before, came for a game against the Vancouver Canucks. Their kids received special "Sikh Heritage" t-shirts and got to take photos at center ice...
...Kallirai is proud of the event. The Kings even gave him and his partners a plaque for "Best Heritage Night." But for him, the day's greatest success was showing thousands of people that Sikh-Americans aren't cloistered foreigners, but active participants in their community. At some level, he thinks, that message was received.
"When we had the bhangra performance at halftime, the audience all stood up and gave a standing ovation for the performance," he says. "The excitement of the kids to be performing in an NBA arena, I don't think anybody's gonna take that away from those kids. Those kids were the first to do this in an NBA arena!"
The three uncles knew they were onto something. After the event, they found themselves on the phone with Sikhs around the country — cousins, friends, perfect strangers. Their question: How do we do this, too? Kallirai and his partners were happy to advise. Kang had an extensive personal network, Kahlon was the dance expert, and Kallirai was the hype man and promoter. They came up with a name befitting their ambition: K3 International. Why not? First Sacramento, then the world....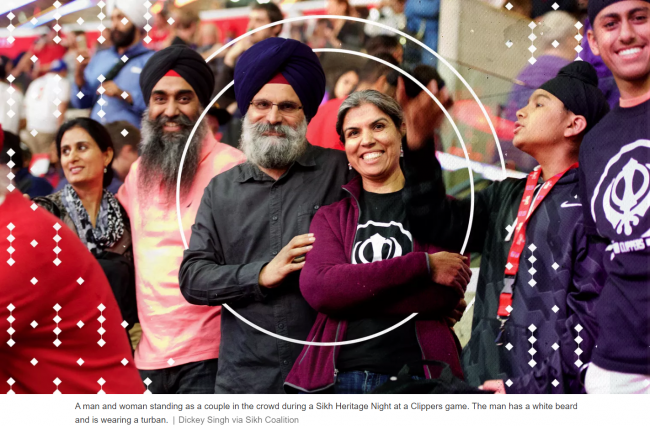 ...Heritage events are also a chance to add texture and depth to the public's notions of Sikhs. Many of the events showcase Punjabi culture, whether it's dance, music, or martial arts. One event had a Sikh UFC heavyweight fighter as its special guest. Many feature local Sikh kids performing the national anthem, or holding an American flag. An event put on by Sikh-American veterans had two representatives in combat fatigues. Gurpaul Singh's school-aged son, Jeeve, sang the anthem once. "Our values are similar to the American values," he says. "Religious freedom, equality, social justice."
These displays of American patriotism by Sikhs aren't without critics within the community. One performer, who asked not to be named, said that an "almost extra display" of patriotism has become the norm in post-9/11 Sikh-American advocacy, even though Sikhs have already lived in America for over a century. In academic quarters, some go further, questioning whether Sikhs should buy into American values if those values include imperialism, genocide of Native Americans and structural racism toward African-Americans.
But these arguments don't get far with most of the Sikh-night organizers. They argue that sports, unlike politics, is a universal language. And it's one that Sikhs love as much as their fellow Americans....
...Maybe that's why his favorite part of the Sikh heritage events is when people sit down with a Sikh and get their heads wrapped with a turban like his. "Obviously tying turbans on random fans could go either way," he says. But "it's a very intimate experience, because you get a four-to-five-minute window to have a one-on-one conversation with somebody."
"I think that what happens in our communities is, [Sikhs] get objectified, they get racism against them. The issue is that they cower. They hide. People are going to make comments so let's just go cower in the corner and not come out," he says. "The thing that I'm trying to promote differently is we have to be out there. You don't have to do anything different. You have to be you, but you have to be out there."...
...And other cities are following suit. Over the last five years, Sikh heritage events have become increasingly common at pro sports stadiums around the United States. They started in California, where half of America's Sikh population lives, and have since popped up as far away as San Antonio, Detroit, and Philadelphia. They've been held at NBA, NFL, and NHL arenas. Many are spearheaded by Sikh "uncles" and "aunties" — that's how South Asian-American kids refer to the grownups in their communities — who love sports. "Uncle Indi" Kallirai, who claims to be infected with a "desire not to be idle," has organized about a half-dozen of them himself, and had a hand in many more.
At a time when many minority groups feel isolated, events like these are an unthreatening way to reach thousands of people. Teams appreciate them too; at a minimum, they are a great way to fill seats and inspire new fans. For Sikh-Americans, though, these events carry a greater charge.
Four days after the Sept. 11 attacks, a gunman in Mesa, Arizona, drove to a gas station and shot dead its turban-wearing owner Balbir Singh Sodhi. This attack turned out to be among the first of hundreds of hate incidents targeting Sikhs, Muslims, Hindus, and Middle Easterners among others that have occurred since 9/11. More recently, Sikhs have been targeted as part of the broader climate of racism and anti-immigrant bigotry in America. Anti-Sikh hate crimes surged almost 17 percent in 2017, according to FBI data. The Sikh Coalition, a civil rights group, says even that figure reflects systemic underreporting by law enforcement and individuals.
Sikh advocacy groups have responded to the violence with aggressive outreach, concentrated toward public institutions like Congress, school districts, and courts. Still, 60 percent of Americans admit to knowing zero about Sikhs, according to a 2015 survey sponsored by the National Sikh Campaign. Sikhs are frequently confused for Muslims and Hindus, a double inaccuracy. Sikhism is not just a different religion; it forbids discrimination against people of any faith.
In California where the Sharks play, half of Sikh children say they've experienced bullying, according to the Sikh Coalition. In 2018, two Sikh men were viciously beaten in Northern California less than a week apart...
..."If somebody else wants to do it, we'll help them, but we'll take a step back. That's pretty much where it ended," he says. Sometimes, he and his buddies talk about getting involved again.
The headlines often remind them of how much work remains. In August, a 62-year-old Sikh man in Tracy, Calif., was stabbed to death while taking an evening walk in the park. Police arrested the 21-year-old white male suspect at his Tracy home, and he has pled not guilty.
Maybe that's why Kallirai, the man who can't fully retire, can't fully let go. He's never found anything that reaches people, that touches people, quite like sports.
"You're not going to change somebody just by doing bhangra in front of them. But when it's in front of a large audience and there's a minor piece of education ..." he trails off.
"There are individuals who've been turned around, even in Oak Creek," he says. "If you converted one to come back onto the humanitarian side, it's been a success."