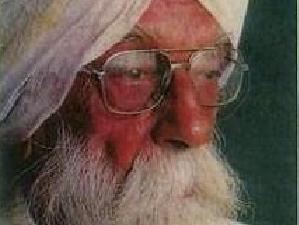 Professor Sant Singh Sekhon (1908-97) was a multi-faceted genius of par excellence. With MA in Economics & English, he started his literary career as a poet. In the thirties and early forties, his poems were published in English, but afterwards he shifted to writing in Punjabi.
 
His first collections namely Samachar (tidings) and Chhe Ghar (six abodes), a short story and one-act play respectively, had their beginnings in the Punjabi language. Unity in diversity depicting rural life of Punjab in the colonial era was best portrayed in his novel, Lahu Mitti (blood and earth). He altogether authored five collections of short stories, four one-act dramas, two novels, ten full-length plays, five books of literary criticism and two volumes of historical evaluation of Punjabi literature.

He always wrote with the intent to draw meanings of contemporary relevance and future value from mythological, historical and social subjects. His Sahitya Akademi award-winning book, Mittarpiara (beloved friend), depicts the Indians, particularly the Sikhs, as patriots striking an ideological affinity with Lenin to liberate India from the British rule.

 He was an excellent translator of texts from Punjabi into English and vice versa. Many English translations of Sufi and Kissa poetry go to his credit. These translations are accompanied by his deep understanding of the literary processes and feelings for the Punjabi language and literature. Professor Sekhon offers a profound commentary on the romances of Hir-Ranjha and Mirza-Sahiban, Hindu-Sikh didactic literature, Mythical Wars, Lays of battle and the literature of early and later British period.

Because of his extraordinary talent, scholastic abilities and contributions in the Punjabi literature, Professor Sekhon is known as 'Baba Bohar' or 'Old Oak' in academic circles. In recognition of his works, Punjabi University at Patiala made him Professor of Eminence, and after his death in 1997, set up a Chair in his honour.

Punjabi Heritage Foundation of Canada is proud to hold its function to commemorate the works of this legendary Punjabi scholar.
 
Saturday, September 26th, 2009
at Ben Franklin Place, 101 Centre Point Drive, Ottawa, Ontario.
Seminar: 2:00 p.m. to 5:00 p.m. Kavi Darbar:  7 p.m. to 10 p.m.