As the coronavirus pandemic rages through the region and most people stay home, homeless San Diegans are confronting a loss of food resources they have long relied on to survive.
Many meal operations – both organized and impromptu – have halted. Cafés and restaurants that once served as daytime refuges from the streets and in some cases, handed over free food, are no longer open. Meanwhile, promises of an influx of new shelter options largely have yet to materialize for unsheltered people in San Diego. For now, those living on the streets are mostly detached from daily news updates on the coronavirus, leading to more fear and confusion and for some, battles with hunger.
Brian Schultz, 52, who usually stays near the San Diego River in the Mission Valley area, said he and friends have on at least one occasion gone without meals for days. He estimated he's lost 10 pounds the past few weeks as resources have dried up.
Schultz said some of his friends have struggled with exhaustion and have broken down crying.
"I am watching people I care about who are starving to death," Schultz said...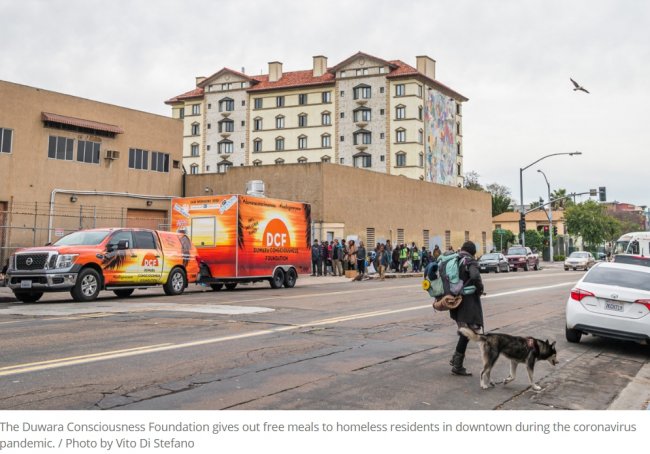 ...The Duwara Consciousness Foundation began serving vegan burritos out of a bright orange trailer at 16th Street and Imperial Avenue in East Village every weekday in mid-March following other closures and quickly attracted hundreds of people.
After a week and half, foundation co-founder Davinder Singh said the truck began drawing 400 people a day in a line that snakes around the block. Many standing in line have reported to volunteers that they haven't eaten in two or three days, and most ask if they can have a second burrito.
"It's devastating," Singh said. "It's so sad."
Chris Nafis, pastor of the Living Water Church of the Nazarene in East Village, said his church has teamed with the Voices of Our City Choir to try to respond to the exploding need. Together, they have increased what had been a twice-monthly food distribution to serve low-income and homeless San Diegans and a Friday food service to three times a week...
...County and city of San Diego officials have rushed to try to provide more shelter options for vulnerable San Diegans, including at the Convention Center and in hundreds of motel rooms.
They have pledged to provide meals to residents of the hotel rooms and new shelters that for now are housing people who have moved in from other shelters. The county has also deployed hygiene kits and handwashing stations aimed at aiding homeless San Diegans.
But many unsheltered homeless San Diegans have been left to largely fend for themselves as they fight to meet their basic needs and the world shuts down around them.
"Everybody's stressed out," Schultz said.