This year, and this week specifically, Guru Nanak is being celebrated all over the world. It is my great honor to participate by producing this 'The Coming of Guru Nanak'. This is an audio story for children but the young of heart of any age may find value in it as well.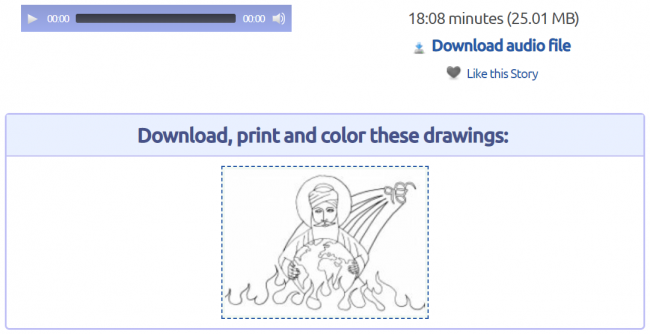 My approach to produce Sikh stories is to make them universal, so that anyone could listen for the first time and not feel like they are hearing vocabulary of another people. Everyone is welcome, Guru's timeless teachings are for everyone. Another main goal of the stories is to make them relateable to children today. 
We already have quite a few stories of Guru Nanak but this story needed to encapsulate all those stories. So it exemplifies with the reason for Guru Nanak's birth in this world in the first place. This was beautifully painted for us by a master with words Bhai Vir Singh in his 'Guru Nanak Chatkar'. He details a conversation with God, Parmatma, and the master soul who became known as Guru Nanak. The master looks at the state of the earth and feels compassion for those who are stuck in the cycle of unfulfilment and are burning in frustration and desire. Sacricing his own bliss to give peace to other Guru Nanak goes to earth, being accompanied by a parade of angels while the gods and goddesses cheer and praise him. 
This is a story that will not only ignite the imagination of young ones it will inspire them to act in their lives. Most importantly it will assure them that Guru Nanak is present in their lives, personally loving and guiding them. 
I will be most honored if you share the reaction from your children listening to this story and I look forward to continuing serving in this way. 
Blessings and Chardi Kala!