NHL.com's Q&A feature called "Five Questions With…" runs every Tuesday. We talk to key figures in the game and ask them question to gain insight into their lives, careers and the latest news.
The latest edition features Amrit Gill, digital content coordinator and host on "Hockey Night in Canada: Punjabi Edition."
For Amrit Gill, her job is much more than that.
Five years ago, Gill became the first woman on "Hockey Night in Canada: Punjabi Edition." And as the NHL celebrates Gender Equality Month in March, Gill hopes the work she's doing makes it easier for other women to join the profession. 
"It's special hearing [that I'm the first woman with Punjabi] and it's great to know that, but at the same time it's like, really it took that long?" Gill said. "It's special because it's more than a job and it's become a passion project. It comes with a degree of certain responsibility to make it better for the next women in line and for the next generation. So, it's not only a job, it's a responsibility."...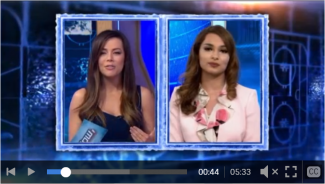 ...What does Gender Equality Month mean to you?
"It's a time to recognize the progress that's been made for women to reach their full potential. But it's also time to have uncomfortable discussions and hold each other accountable and ask, what are we doing on a daily basis that will amount to lasting change, so that females who eventually make up half the world's population can have the same, fair equal opportunities as their male counterparts. While now we may have more opportunities compared to my mom's generation, it's not enough and we need to be OK vocalizing that.
"One of my favorite quotes [from Billie Jean King] is, 'Everyone thinks women should be thrilled when we get crumbs. But I want women to have the cake, the icing and the cherry on top, too.' Until we start being more comfortable with the idea of becoming more content with reaching for more, we still have more work to do."...
...You mentioned that you see your work as a job and a responsibility. How much do you enjoy bringing hockey to the Punjabi audience?
"It's a very, very fun job, but I think it wasn't until the third season that I felt like a full-fledged member of the team. And that was because I had the encouragement and fantastic leadership from mentors in the building, my producer, my colleagues who urged me to pursue something new. And they trusted me in taking the work on. Those mentors were men, and until men start stepping up and understanding that investing in women isn't a risk, it's a reward that keeps on giving, we're not going to be able to reach our full potential.
"I guess what I'm trying to say is, as organizations we want to reflect our audience. We want to have diverse people, we want to have people from visible minorities, men and women, gender parity essentially. It's a lot of fun, but I really just view it as a responsibility and a privilege and I'm lucky to have a platform that allows me to create a more inclusive, diverse narrative for the sport."...
...We see women's progress in some areas. We see how women's hockey is growing, and Cammi Granato becoming the NHL's first female pro scout with Seattle. Are you encouraged by the big picture?
"Yeah, I would say I'm encouraged by the big picture and those in charge are understanding. But this shouldn't be viewed as a goal. It should almost become mandatory that more women are in the business. Women are stepping up to the plate. They've been ready to step up to the plate. But until we have leaders that understand investing in a woman is a reward, we're not going to be able to see change."