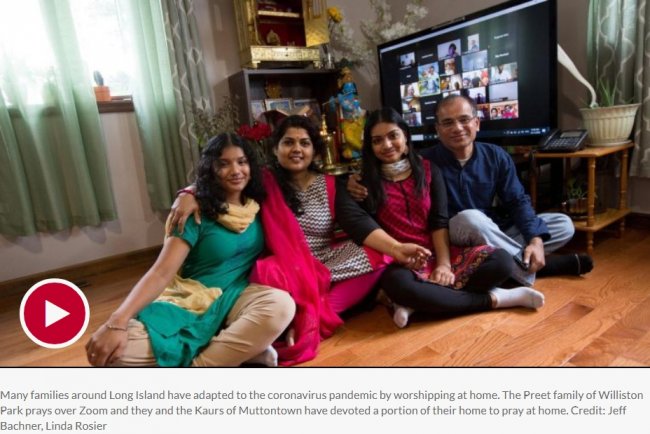 For Harpal Kaur, the gurdwara in Glen Cove is an inseparable part of her life.
The Sikh homemaker attends weekly prayers, helps prepare and serve free meals at the community kitchen and has been involved in the ladies congregation since 2007.
Then came the pandemic, which closed houses of worship earlier this year. The lockdown left Kaur and her fellow congregants "feeling disconnected," as it did followers of other faiths, including Hindus, Muslims, Buddhists, Jews and Christians.
"In our religion, there is no middleman needed," said Kaur, 51, of Muttontown. "The whole teaching of Guru Granth Sahib-ji teaches us how to connect with God one to one."
The Sikhs believe in one God and their holy Scripture, the Guru Granth Sahib, contains 1,430 pages.
So, during the lockdown, Kaur and her community formed a WhatsApp group of about 25 members including the priest, to take turns reading from the holy book.
They also "prayed for the whole entire universe every day," Kaur said. "During this pandemic people were so scared so we thought let's start praying for people. By doing this we kept ourselves busy, but also we were comforted and had peace of mind."
The restrictions on mass worship have only strengthened the devotion of Long Island's religious communities — and in some cases have served as a teachable moment for their children who have been missing the temple gatherings. Some have modified their living space to be able to pray more at home.
And technology has proved to be a godsend.
WhatsApp connection
Kaur and her fellow devotees use WhatsApp to do what they would do in the gurdwara in the privacy of their homes.
"Whoever wanted to participate in the prayers, I call them, and I tell them they can start from this page," she said, and "when they are done reading the 10, 20 or 30 or 40 pages" they let her know they are done and "then I update in the group. So, the next person can continue with the prayer."
Convenience is key. "People do it as they have time or any time of the day," Kaur said. It takes three to four weeks to finish the entire holy book.
Kaur also prays at home, which she shares with her husband, Charanjit Singh, son Davinder Singh, 30, daughter-in-law Lovepreet Kaur, 23, and her mother, Tarsem Kaur, 73. Her daughter Chahat Singh and another son Bhavneet Singh, both in their 20s, live in Manhattan.
Since pandemic restrictions started to ease on Long Island, Kaur has resumed going to the gurdwara. But she said: "The WhatsApp group recitation is still on. Because many are elderly, they are afraid to go to the gurdwara on a regular Sunday or any other time."...
...Zoom deepens devotion
Vinod Preet really misses going to the Hindu temple in Flushing but during the pandemic, the puja area in the living room of his Williston Park home — replete with a mandap, or a religious altar, a statue of the Hindu god Krishna, and sacred texts — has become his holy ground...
..."At home we were not regularly doing prayers or anything even though I tell my kids everyday they should be praying but after COVID the frequency has improved," Preet said. "My kids are setting aside time in the evening … sitting there and doing prayers and singing bhajans."
Things have only gotten better for the family — Preet, his wife, Sudheera Vinod, and their daughters, Arpitha Vinod and Ankitha Vinod.
"The frequency of sitting for prayers has improved after COVID for kids, and for me and my wife," Preet said. "The timing and type of prayers we do, that also has gone up …. We are learning new things also."