Travelling from Delhi to London by road, 60-year-old Amarjeet Singh has proved that age is just a number. The Delhi-based retired businessman completed the 36,800 km road trip, covering 33 countries in just 131 days, doing what most people only dream of.
Singh began his journey from New Delhi on July 07, 2018 on his 2013 model old Toyota Fortuner SUV and completed his trip in London on December 16, 2018.
"I started from India to Nepal, China, Kyrgyzstan, Uzbekistan, Kazakhstan, Russia, Poland, Liechtenstein, Austria, Estonia, Lithuania, Latvia, Sweden, Norway, Germany, Switzerland, Belgium, Czech Republic, Hungary, Slovenia, Slovakia, Italy, Spain, Portugal, Luxembourg, Monaco, France, Netherlands, Denmark and finally reached London," Singh explained...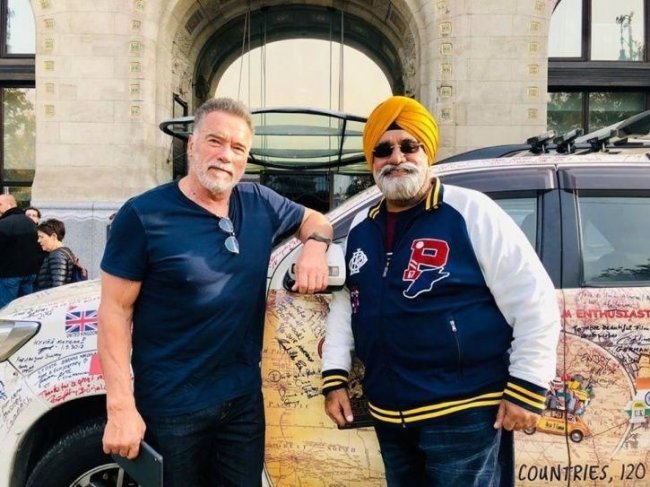 ...Also known as the 'Turban Traveler', Singh got to meet a number of celebrities including Hollywood legend Arnold Schwarzenegger during his trip.
"The biggest takeaway for me from my travel is getting to know more people and learn about their life. Contrary to what people think, from my experience, I can say that the world is full of good people, people who would go out of their way to help you, even if they don't understand a word you are saying. I have had people inviting me to their homes, where we stayed for days and enjoy their hospitality and love. One of the most memorable experiences I had was in Poland when a group of people whom we were staying with came to know that it was my wedding anniversary and they arranged a small celebration," Singh recalled...
...The man, who is indeed an inspiration for millions of young travellers, has an amazing message to share with fellow wanderers. Singh said he also wants to send out a message, especially to the youngsters, to follow their passion, no matter how late they feel it is now to pursue the dream.