Sikhs from the Pe­shawar re­gion of Pak­istan en­tered the his­tor­i­cal en­vi­rons of the Jam­raudh fort build by Hari Singh Nalwa and ob­served his death an­niver­sary amidst re­call­ing his heroic con­tri­bu­tion in build­ing and pro­tect­ing this his­toric fort and the en­tire re­gion near the Khy­ber pass...
...Pe­shawari Singhs were de­lighted to see the Fort in­te­rior which had wit­nessed the hey-days of the Sarkar-e-Khalsa. The pi­ous and ded­i­cated Sikhs of Pe­shawar re­called the gi­ant Sikh per­son­al­ity, who to this day is rem­i­nisced for his hold in the re­gion...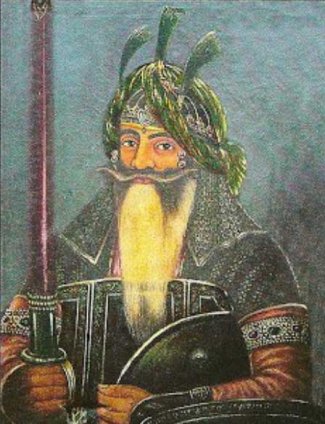 ...It is com­fort­ing to note that the Pak­istan Sikh Gur­d­wara Par­band­hak Com­mit­tee, in as­so­ci­a­tion with the Pak­istan gov­ern­ment is work­ing to­wards re­newed ef­forts to pre­serve and pro­tect the sa­cred and his­tor­i­cal sites of the Sikhs.
The sig­nif­i­cant role of Hari Singh Nalwa as a pow­er­ful com­man­der in the North West Fron­tier Province led to moth­ers in­still­ing fear in their way­ward chil­dren say­ing, "Hari Ara­gle -Sleep soon, oth­er­wise Hari Singh will come."
To­day, I wish I could say, Hari Singh, come soon. The com­mu­nity badly needs you!