Ever since the inception of the John Monash Scholarship program in 2001, just over 200 Australians with "significant leadership potential, who are outstanding in their chosen fields and aspire to make the world a better place", have won it. 
Captain Amrinder Singh Ghuman is among the 13 people named by the John Monash Foundation as winners of this prestigious scholarship in 2021, and in doing so, he has become the first Sikh Australian to receive this honour. 
Highlights:
Captain Amrinder Ghuman is one of 13 people to win the 2021 John Monash Scholarship
Since 2001, there have been 215 John Monash Scholars, and Capt Ghuman is the first-ever Sikh Australian to receive this distinction
Capt Ghuman has led troops on missions in Australia, Fiji, Iraq and PNG, and wishes to serve as many people as possible
He told SBS Punjabi, "I believe John Monash Scholars are chosen on the basis of  three things - leadership skills, academic excellence coupled with the desire to develop further through education, and the intention to serve the wider community." 
He believes his track record in the Australian Army, of pursuing higher education, as well as his Sikh faith which ingrained the concept of sewa (service), were instrumental in landing him this prestigious scholarship.
"I have been a military engineer officer for 10 years, with more than five years experience of commanding soldiers and leading diverse teams in remote regions of Australia, the Indo-Pacific and the Middle East. 
"After studying civil engineering during my military training at ADFA during 2010-2014 and completing a Masters in Project Management, I'll now pursue a Masters in Business Administration to accelerate my impact and further excel as an Australian Army officer in delivering infrastructure in regions critical to Australia's interest." ...
..."I have learnt over the past decade that my identity, my background, my values are not a baggage when growing up in Australia, in fact, they are assets. My background gives me unique tools and ideas that are different to conventional thinking." 
He adds, "My values, specifically the concept of sewa are the cornerstone of my leadership style and were critical to my growth as a leader. I knew myself, I was comfortable in my skin, and I was then able to lead others." 
The scholarship funds $70,000 per year for up to three years, for the John Monash Scholar to earn higher education at an overseas university.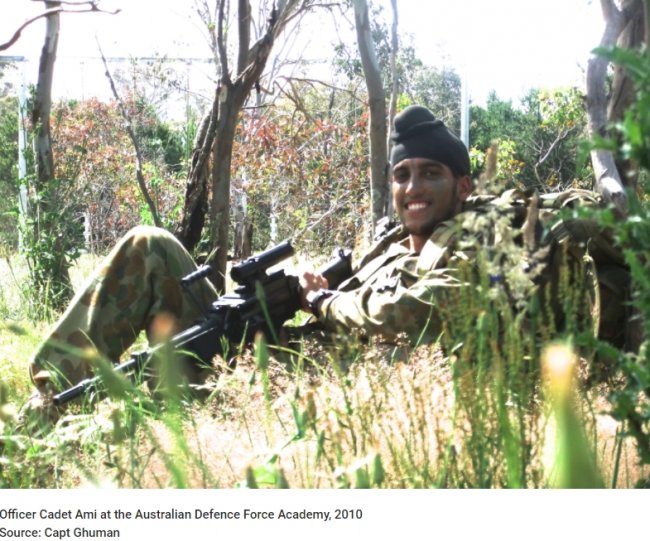 Capt Ghuman says, "I hope to complete my MBA either from London Business School in the UK, or the Massachusetts Institute of Technology in the USA." ...
...Capt Ghuman feels it is a special honour to be named the first Sikh recipient of the John Monash Scholarship. 
"I feel very proud to represent the Sikh community and hope to become a positive ambassador," he said. "My identity is an automatic form of distinction. In a society that constantly wants to be noticed, Guru Gobind Singh has blessed me with a distinctive identity." 
Reflecting further on his identity he said, "I knew the Army was the place for me for two reasons. I grew up listening to the sakhis (stories) of Guru Hargobind Sahib's, Guru Gobind Singh's, Banda Singh Bahadur's, Baba Deep Singh's and Saragarhi Sikhs' bravery. I wanted to test my mettle, see if the blood of my forebears flowed through me." 
"Secondly, I wanted a career of service. The Army is a force for good, that is always employed in the regions that are the most desperate, where hope is at its lowest. I wanted to be there for others, and I wanted to lead/influence the Army's efforts. That is why I joined as an Australian Army officer."