Burnaby and New Westminster residents were among those recognized in the 2021 B.C. Multiculturalism and Anti-Racism Awards.
The awards were presented in a virtual gala on Sunday, March 21, the International Day for the Elimination of Racial Discrimination.
Awards were presented in three categories: Intercultural Trust, Breaking Barriers and Emerging Leader.
Harman Singh Pandher of Burnaby was one of two winners of the Intercultural Trust Award. He was recognized for his work in bringing youth together in anti-racist action and engaging the community in intercultural conversation.
"The Intercultural Trust Award is about building and uniting communities. That's what I'm most passionate about, and that's what I've tried to do over the better part of my life," Pandher said at the gala.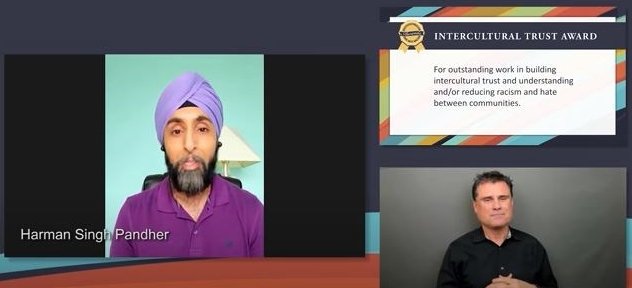 Pandher's efforts have been wide-ranging, including providing arts mentorship opportunities through the SONG Creative Mentorship Association of Greater Vancouver and mental health advocacy through the South Asian Youth Mental Health Ambassadors Program.
Pandher, an elementary school teacher in Surrey and a former school trustee in Burnaby, said receiving the award was a privilege and a responsibility. He noted his anti-racism work is "inseparable" from his work in the school system.
"Racism and hatred are learned, and they can be unlearned," he said.
New Westminster resident Harbhajan Singh Atwal earned an honourable mention in the same category for his work to unite people of different cultures and religions and his commitment to volunteering...
...Nominations for the awards were submitted by members of the public through an open call.
All nominees were invited to the virtual award ceremony and received a certificate for their nomination. Among those nominees was New Westminster city councillor Nadine Nakagawa.