Last year, Anneeth Kaur Hundle joined UCI as the School of Social Sciences' Dhan Kaur Sahota Presidential Chair in Sikh Studies. The $2 million endowed chair, in the Department of Anthropology, was created in 2017 with a $1.5 million gift from Drs. Harvinder and Asha Sahota and $500,000 from the University of California Presidential Match for Endowed Chairs program.
As chair holder and assistant professor of anthropology, Hundle contributes to the study of the Sikh religion and culture in global, comparative, cross-racial and religious community frameworks. She guides research and graduate training, teaches courses and develops programming in order to integrate and expand Sikh Studies into existing debates and fields of research, including pressing issues affecting Sikhs in the US. Here, Hundle discusses her role in and vision for Sikh studies at UCI...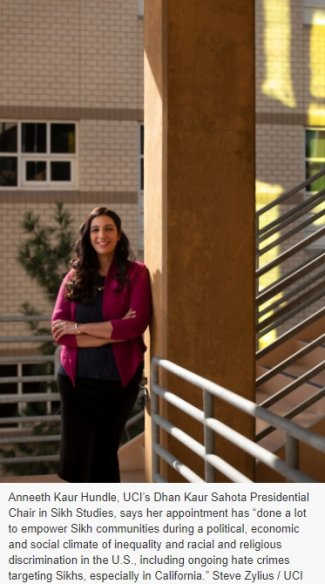 ...What has it been like being the first appointed chair in Sikh studies?
It's a huge honor and has brought global and national visibility to the field of Sikh Studies, as well as to the anthropology department and School of Social Sciences at UCI.
The appointment has also done a lot to empower Sikh communities during a political, economic and social climate of inequality and racial and religious discrimination in the U.S., including ongoing hate crimes targeting Sikhs, especially in California. Additionally, it has been important for religious minorities to have more critical intellectual leadership in the context of the increasing power of the far-right Bharatiya Janata Party-led Modi government in India, which has most recently sought to exclude and "cleanse" Muslims from the nation through the Citizenship Amendment Bill and the National Register of Citizens. Generally, we have seen more support for political and intellectual alliances between Sikh and Muslim communities (both religious minorities in India) in the wake of these measures. This is important because there has been a long history of Sikh-Muslim tensions, most exacerbated by the fallout of the postcolonial Partition of the Punjab region into Indian and Pakistani Punjab and ensuing communal violence. Increasingly; however, we are seeing more disenfranchised and oppressed minority groups in India facing similar plights.
Moreover, as a Punjabi Sikh woman (and a first-gen student at a U.S. university and the daughter of immigrants from India), I am serving as a role model for many young women of color who will be entering the university and the contemplating their futures in the U.S. workforce in the next several decades. This is important because normative models of gendered and racialized labor for minority communities are changing rapidly in relation to the precarity of neoliberal capitalism. The public sphere in the US is also transforming as it is contending with issues of class, racial and gender inequality more overtly in the context of the US's rightward shift.
Can you describe the scope of Sikh Studies?
Sikh studies is an interdisciplinary field connected to religious studies, Punjab/diaspora studies and the larger field of South Asia studies (although Sikhs have always been part of imperial and post-colonial diasporas, due to their labor and mobility within the British Empire). In broad strokes, I like to think of Sikh studies as a combination of the academic study of Sikhism (the religious, philosophical and ethical tradition), Sikh communities (collectivities organized around the tradition), and what I frame as the always shifting circumstances and possibilities of "Sikh life." As a trained anthropologist, I like to think about Sikhi as lived practice unfolding in context. Generally, the field includes historical, ethnographic, theological, philosophical, literary, cultural and other disciplinary approaches.
The field of Sikh studies is also at a crucial turning point. A younger generation of critical scholars – children of immigrant-exiles from a post-partition, postcolonial India, Africa and other areas – is redefining research and scholarship that bridges intellectual and activist work across our communities, the academy and the public sphere – all in the context of pressing global, national and local issues affecting the life chances of our communities. The millennial generation has a lot to contribute to the growth of this field.
What do you plan to accomplish at UCI?
My main goals are to create an infrastructure for Sikh Studies to flourish here and in the UC system for generations to come; to establish an intellectual home and space for self-understanding for Punjabi Sikh students and ALL undergraduates, regardless of race or religion, on campus; to recruit and train cutting-edge and critically minded graduate students to grow the field; and to contribute more new research to Sikh studies, especially in relation to my own areas of expertise.
We need to "open the field" by forming bridges between Sikh studies and current intellectual debates in the academy, especially as our global contexts continue to transform rapidly. I personally want to continue developing my skills in leadership, curricula and program-building; growing intellectual, activist, and community power; nurturing solidarity and alliances across communities; and connecting the work of the university to the needs and aspirations of our communities.