As the farmers' protest at the borders of the national capital enters 81st day on Sunday, Buddhist monks lend support to the agitation against Centre's farm laws. At Ghazipur border, where farmers from UP have been camping as a protest demanding repulsion of the laws, Buddhist monks have stationed a tent in solidarity.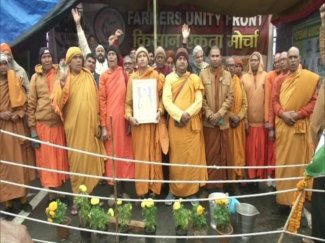 While some maroon-robed monks, who claim to be apolitical with strong roots in the farming community, arrived early December before the government crackdowns escalated, some have arrived now after the culmination of their festival, Losar...
...The barricades, ditches, concertina wires, shutdowns, and round-the-clock police surveillance following the January 26 violence, have strengthened their resolve to bolster the movement. While Hindu seers, akhada religious leaders and representatives of Christian trusts have shown their solidarity by moving in and out of the protest sites, the Buddhists have remained robustly stationed...
..."Religion has taught us not to be mute spectators to social injustices," said an elderly monastic in Ghazipur. "Farming has no religion, and we are only agitating for the right to life and livelihood."
Buddhist Monks Take Part in the Protest and Rain Damages Make Shift Farmer Tentshttps://t.co/OAaxQOv6Nl #WorldSupportIndianFarmers pic.twitter.com/RI1xRG85gd

— StandWithFarmers 🚜🌾 (@StandUp4Farmers) January 6, 2021
Monks deliver powerful message
Despite not being active campaigners on the streets and public squares, the monks have delivered a powerful message: Non-violent protest is as critical to Buddhist training as is the training of the mind and body. Simply by showing up, it's possible to spark change at the grassroots level.
Earlier in January 2021, a group of Buddhist monks from Lucknow lent their support to farmers.
"We have left our temples in Lucknow to join the farmers in their protest against the three laws. We have taken an oath not to leave till the farmers get what they are fighting for - the repeal of the three black laws," one of the monks had told ANI.