Introducing Constable Sukwinder Singh of Capalaba Police Station.
Constable Singh is a recent addition to Bayside Patrol Group having started at Capalaba a few months ago.
He brings with him a slightly different angle and skill-set to most bayside police including the ability to speak three languages, Punjabi, Hindi and of course English.
As a practising Sikh, Constable Singh wears traditional Sikh headgear, but apart from that (and a really cool beard), you will find Constable Singh is no different to any other bayside police officer.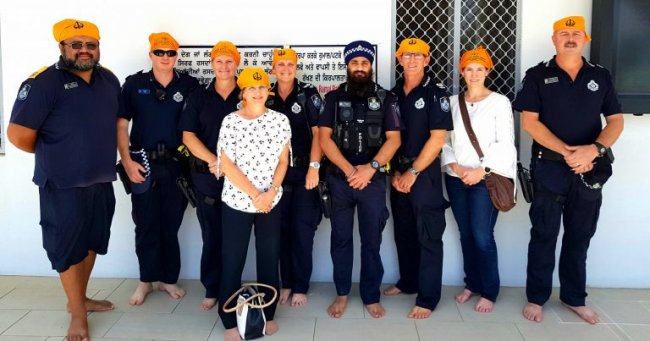 If you see him around, be sure to say G'day or namaste.
Having graduated in June last year, he spent his first year at Logan District stationed at Browns Plains and Beenleigh station before being confirmed at Capalaba Police Station.
Last Wednesday members of Capalaba Police Station, QPS Recruiting and Bayside District Crime Prevention (DCPC) accepted an invitation to visit the Brisbane Sikh Temple and were given a lesson in Sikh religion...
..."It is fantastic to get the opportunity to experience part of his culture and it gives the rest of us some understanding of his background, his beliefs and how we can best support him in the workplace,"...