Over the last 30 years, Canada has taken great strides toward celebrating its diversity, says the country's first Sikh Mountie.
But more work is needed, according to Insp. Baltej Singh Dhillon.
Dhillon, a 29-year Royal Canadian Mounted Police veteran, was the first officer permitted to wear a turban and beard – in keeping with his Sikh heritage – when he was accepted into active duty in Quesnel, B.C.
In a presentation April 27 at McMaster University, Dhillon explained he never intended to change the RCMP. But by 1990, his desire to preserve his Sikh heritage while serving his country made him a controversial figure, albeit unwittingly.
For Dhillon, the decision came down to a promise he made to his late father, to honour his identity at all costs.
Originally from Malaysia, Dhillon came to Canada as a teenager and settled in Surrey, B.C. A family member had already arrived in Canada and had offered to sponsor Dhillon.
Over the years Dhillon faced institutional bias and stereotyping, along with overt racism.
On his first day at Frank Hurt Secondary School, Dhillon reported to the office. After officials saw "Malaysia" as his country of origin, he was assigned to an English as a Second Language class, even though Dhillon already spoke the language fluently.
One day he received what he thought was a friendly pat on the back. But later that day, a friend peeled a CP Air sticker off of his back with the words, "Go Home."
Others were even less welcoming to Dhillon and his family. 
"It was often that our homes would get egged. It was often that our cars would get written in a language that we all know," Dhillon recalled...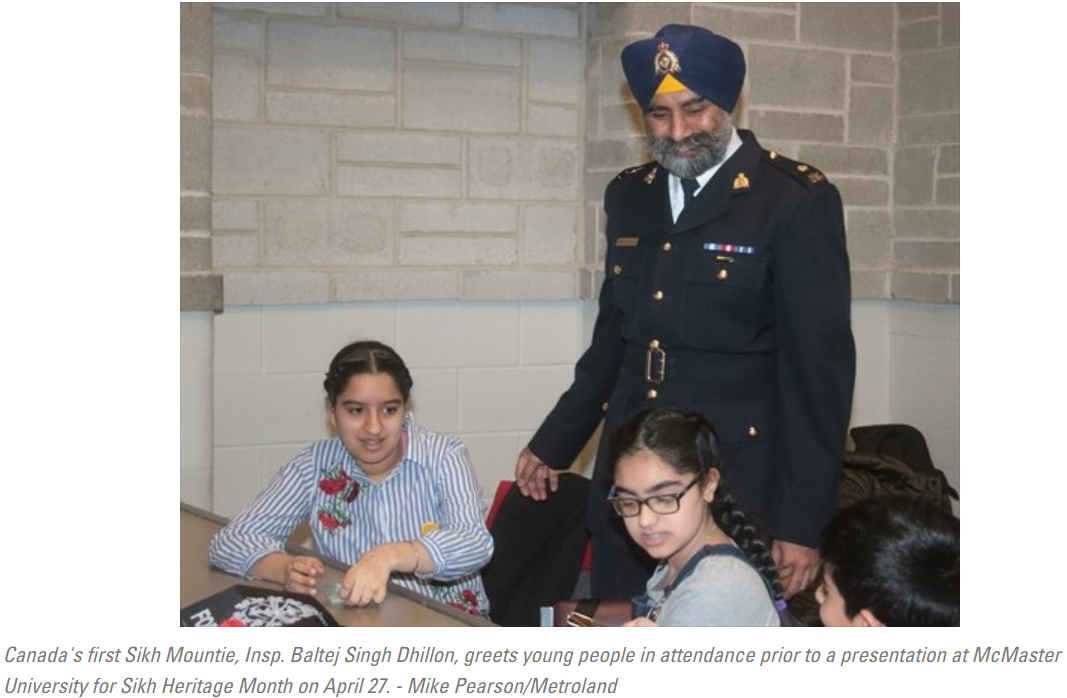 ...There was just one problem: the Mounties had no policy that would allow Dhillon to wear his turban in place of the traditional Stetson.
Dhillon began to walk out of the interview room. But when he got to the door, the commanding officer asked whether he had always worn a turban.
After a few moments, Dhillon recalled, the interviewer realized the silliness of his question.
"It took some reflection," said Dhillon. "But at that point he no longer saw the turban. He saw me. He was no longer persuaded by the exterior but rather had connected with me."
In the months that followed, the RCMP and Members of Parliament approved an exemption that would allow Sikh RCMP officers to wear the turban on duty.
A national controversy ensued...
...To combat racism and ethnic stereotyping, Dhillon said communities shouldn't be defined by things like race, religion or sexual orientation, but by people who are working together toward a positive common goal.
"Representation of the community within institutions and organizations that are the pillars of this country is critical," said Dhillon. "It cannot be left to chance. It has to be a part of our principled approach around ensuring that this country that we all contribute to, absolutely has within its cellular makeup, the diversity of the community that we live in. If not, we will fail."
Following his presentation at McMaster as part of Sikh Heritage Month Hamilton festivities, Dhillon took part in an evening event at the Gurdwara Dukh Nivaran Sahib on Lake Avenue in Stoney Creek, where the public was invited to enjoy free food (langar) as well as traditional hymns.