The 1,300-strong community of Sikhs in the Australian seaside town of Woolgoolga may seem like an aberration, existing amid a largely white population in this rural outpost of the country. But if it is an anomaly, it is at least a wealthy one, and also proves that a touch of Punjab can coexist with Anglo-Australian culture even at a time when some members of the Australian government have whipped up racial fears about non-white Australian citizens.
Situated about 550km north of Sydney and just 25km from the popular seaside resort town of Coffs Harbour on the northern New South Wales (NSW) coast, Woolgoolga "is a unique cultural village", said John Arkan, whose great grandfather came to the region to work on the sugar cane farms from a village in Punjab that carried the same family name. "I call it a village because it is like India," he said.
The Sikhs of Woolgoolga are mainly descendants of indentured labourers from Punjab state in northern India who were brought by the British to work on sugar cane plantations in the 19th century. Several generations later, the Australian offspring of the labourers – and of later waves of Punjabi farmers who came to the region to set up businesses selling various wares – are landowners and wealthy farmers...
...The Punjabi settlers in the region had mostly become street hawkers during the transition from sugar cane to bananas, but they, too, eventually took to banana farming. By the 1990s they owned most of the plantations and basically controlled the banana market in Australia, and along the way had grown wealthy. In 2017–18, banana production was valued at A$434 million (US$322 million), with the vast majority of the crop sold on the domestic market.
Their wealth gave rise to this little Punjab in rural NSW. During the government's "White Australia" policy, which lasted from 1901 to the mid-1970s and effectively stopped all non-European immigration into the country, the Sikhs were not allowed to hold freehold property titles. Once the prohibition ended and they began buying up their own land and farming it, they also started bringing in wives from India. When the community grew, they built the first Sikh temple in Australia right in Woolgoolga.
The Woolgoolga Sikhs' first gurdwara, or temple – a modest brick room built in 1968 – was officially recognised in October 2020 as a NSW state heritage site.
There are now two Sikh temples in Woolgoolga reflecting the grand architecture of a gurdwara in Punjab. The Guru Nanak Gurdwara (named after the founder of the Sikh religion in 1469, Guru Nanak Dev) was opened in 1970; a more elaborate one was built next to the heritage-listed gurdwara (which is now used as a community meeting space) at an estimated cost of A$3 million (US$2.2 million), with funds for its building raised from the local Sikh community and other Sikhs scattered across Australia. Known as "First Gurdwara", it opened in April 2019.
Swarn Singh Sandhu, a community elder who migrated to Australia in the 1980s and has been a farmer here for 30 years, said the Sikh temples "help to bring the people together and cooperate, especially when it comes to festive times" that help pass religious traditions to the next generation.
He said the Sikhs of the Woolgoolga area used to go to India to find marriage partners, but the new generation usually found partners from within the Indian community in Australia. His three Australian-born sons have done the same, he said.
...The Sikh farmers are the main force behind the Coffs Harbour area's A$200 million blueberry revolution. More than 100 blueberry-growing Sikh farmers joined hands to form the Oz Group Co-operative in 2001. The organisation helps to market their produce to major supermarkets and wholesale markets in Australia and abroad.
Swarn's 30-year-old son, Karmjit Sandhu, completed a degree in internet technology at Southern Cross University but chose to go into farming on his father's land. "When I was doing IT, I ran the cucumber farm for dad," Sandhu said. "I like farming and I want to be my own boss. That's why I went into it."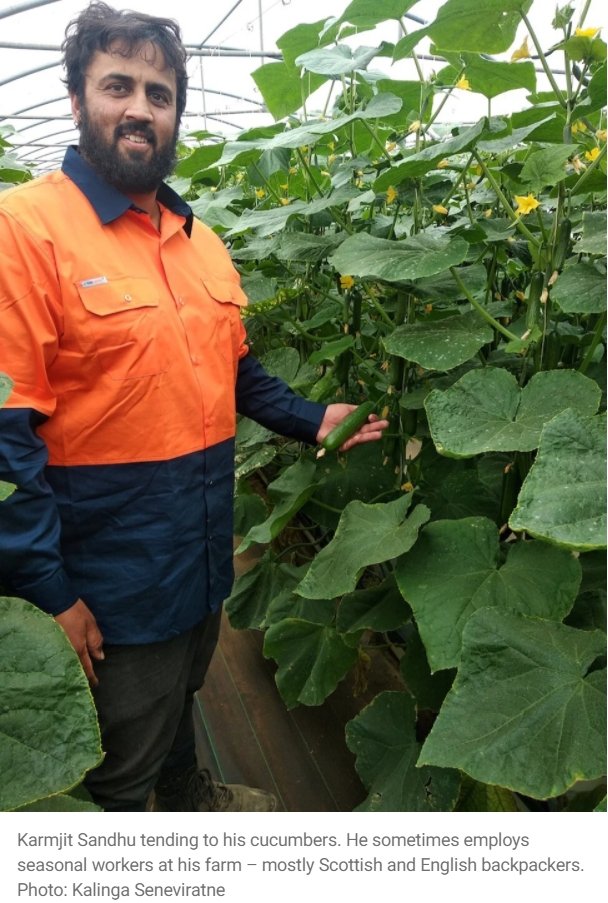 He now employs five full-time staff on his large farm, where he grows cucumbers, raspberries and blueberries. The Oz Group Co-operative helps him sell it...
Paramjeet Bhatti, whose great-grandfather came to the Woolgoolga area to work on sugar cane farms, owns large tracts of farming land, where raspberries and blueberries are grown under greenhouse-type enclosures. He also employs seasonal labourers for fruit picking through a broker.
"This is a great place to live near the ocean," Paramjeet said. "Our ancestors never left. We stayed farmers. Our kids go to university, come back and work here as farmers, especially the boys."...