The 17-year-old NBA Academy India alum was recently accepted into California Institute of Technology, an NCAA Division III institution in the USA. In a tell-all, she shares how basketball began for her, the NBA Academy camp experience, battling lockdowns while attending prep school in the US and more.
The 17-year-old was recently accepted into the California Institute of Technology, an NCAA Division III institution in the USA.
"I had no expectations at all. I'll be very frank," Asmat said in an exclusive with NBA.com India's Yash Matange.
This would make her the fourth-ever Indian - all women - to play college basketball in the NCAA circuits with the other three being Kavita Akula, Sanjana Ramesh and Harsimran Kaur (later in 2021).
Set to major in Chemical Engineering as a part of the class of 2025, her remarkable achievement comes nearly two years after she was accepted into the prestigious Lawrenceville School in New Jersey, USA back.
"My parents definitely helped a lot in the process, without their support and without their research and encouragement, I don't think it would have been possible."
The couple of years at the private boarding school proved to be an important stepping stone to realizing her college dream. On and off the court, it simulated the college environment and better prepared Asmat for the college selection process.
"I feel that my game definitely improved after coming here [the USA] ," Asmat shared...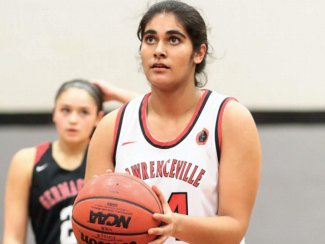 ..."There was a lot of work and not enough time to do it," Asmat shares. "So my workouts did kind of take a backseat but at that point, the applications and schoolwork were more important. So, I think it's just all about balancing and prioritizing."
With how everything has worked out, Asmat seems to have come out on top. Now, it's time to focus on the next priority - "The goal is to be super basketball ready by October."
Even while she was at home, during the fall semester, Asmat would battle through and put in some workouts at 4:00 am in the morning and then go to sleep.
The need to stay in shape is part of a sportsperson's lifestyle but to do so at odd times at the end of a regular college day requires a lot of mental fortitude and passion. Fortunately, Asmat has plenty of both.
"Just casually started playing and then I grew to love the sport," Asmat begins talking about how basketball began. "My height was definitely an advantage in the initial years because that encouragement shaped my passion in the later stages."
She began 'casually' playing when her father, who played basketball during his high school days, asked her to pick a sport at the age of 13. While she was leaning towards Tennis, he insisted on giving basketball a shot.
As the saying goes, nobody can teach height. That god-given skill was seen as an asset and coaches were keen to help Asmat develop the rest of her game, which only fueled her passion for the sport.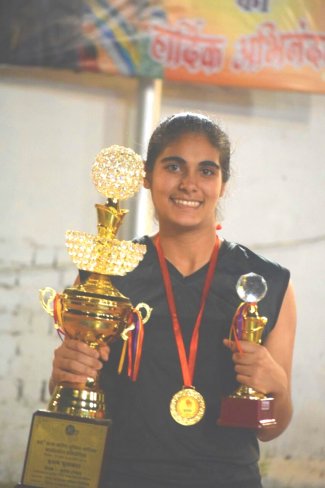 "Then as years went by, I played a couple of national tournaments. I started to love the sport, honestly, it just became less of a hobby and more of a lifestyle."
Similar to her college application, Asmat didn't expect to be selected even for the state team. Once again, she was pleasantly proved wrong.
"I guess I was better than I thought. I guess, I just didn't know my own strength at that time, because I was strong and I was tall, and I could push my way on the court."
A former U16 captain for Maharashtra, she played senior national tournaments at the age of 15 and 16. At 14, she was part of the India squad, who were crowned champions of Division B at the FIBA U16 Women's Asian Championship in 2017...
..."I don't want to compromise either on basketball or on academics because both have a really important role in my life," Asmat said when asked about what's next.
Giving up basketball is not an option for the 17-year-old, however, she insists that she does like the comfort of a degree in engineering for the future.
Watch out for Asmat as she continues living her dream and goes on to represent Indian Basketball in the NCAA circuits.