AMRITSAR: Being home to the supreme temporal seat of Sikhism, Amritsar has always been central to Sikh politics in Punjab. Yet the honour of representing the Amritsar parliamentary constituency maximum number of times is held by a non-Sikh, R L Bhatia of the Congress.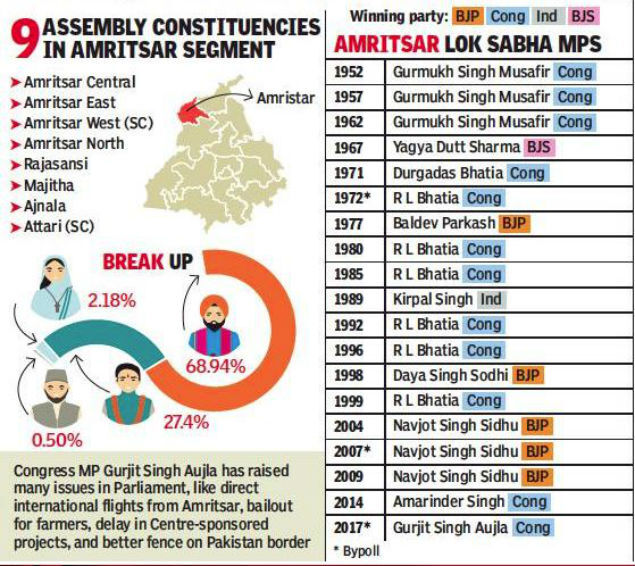 What's more, since 1952, Amritsar Lok Sabha seat has been represented 12 times by the Congress while BJP nominees have represented it four times, including three consecutive wins by then BJP leader Navjot Singh Sidhu. Even the self-declared panthic party Shiromani Akali Dal's constant attacks on the Congress, holding it responsible for storming of the Golden Temple during Operation Bluestar in 1984, have not turned most voters against the party. Sikhs make up 68.94% of the total population of the constituency.
The phenomenon of parties fielding only Sikh candidates is a comparatively new one but the seat has always attracted political bigwigs. The first Amritsar MP, Gurmukh Singh Musafir, was jathedar of the Akal Takht from March 12, 1930, to March 5, 1931, and then chief minister of Punjab from November 1, 1966, to March 8, 1967. There on, Bhatia rose to become the minister of state for external affairs in 1992 and later served as governor of Kerala and subsequently Bihar.
In more recent times, contest between now Union finance minister Arun Jaitley and now Punjab CM Amarinder Singh had grabbed headlines. Despite the 'Modi wave' across India in 2014 parliamentary elections, Amarinder polled 4,82,876 votes, while Jaitely polled 3,80,106 and lost by a margin of 1,02,770 votes. While Punjab gave AAP its four MPs, in Amritsar, party nominee noted eye surgeon Dr Daljit Singh got only 82,633 votes.
In 2016, Amarinder had resigned in protest against Supreme Court's verdict on Satluj Yamuna Link canal necessitating byelections. In 2017, the Lok Sabha seat saw a triangular contest. Congress candidate Gurjit Singh Aujla, who was then party's Amritsar urban district president, defeated his nearest rival Rajinder Mohan Singh Chhina of BJP by 1,99,189 votes.
Aujla got 5,08,153 votes, while Chhina polled 3,08,964. AAP's Upkar Singh Sandhu, a former SAD leader, got only 1,49,984 votes. All three parties had fielded Sikh candidates.