When cartoonist Vishavjit Singh becomes Sikh Captain America, the look is distinctive. His turban, long beard, glasses and brown skin stand in contrast to the way we're used to seeing the fictional hero presented. Because of the popularity of the Marvel Cinematic Universe, actor Chris Evans might be the first image of Captain America to come to mind. For comic book fans, the traditional depiction of a tall, well-built, chiseled-chin version of the Super Soldier is ingrained in their memory....
...Now, Singh has teamed up with Seattle photographer Nate Gowdy, Christie Skoorsmith and Gregory L. Evans for a photo and storytelling project titled "The American Superhero." They're welcoming others who want to depict Captain America as well. In addition to professional photos, Gowdy asks them what they consider to be their superpower and what being an American means to them.
"Dressing up was kind of a funny, humorous way to kind of loosen people up," said Gowdy. "But we found out that once they sat down to tell their stories, we were blown away."
Aleksa Manila, a social worker and drag queen, is among the group. In the portrait, Manila is wearing an opulent crown, chandelier earrings, royal blue sequined dress and holding the mighty shield. In the accompanying narrative, Manila explains why drag is their superpower: "It allows people to be inspired, to be encouraged, to dig deep and to see the beauty that exists inside and out."
Jeremy Best, a high school music teacher, musician and quadriplegic, also posed for the project. Best described his superpower as pioneering technology so others with a similar physical condition can still make music in the future. The Vasilez family of three joined in, and so did Mary Elisabeth Hancock. She's 99 and was a World War II nurse.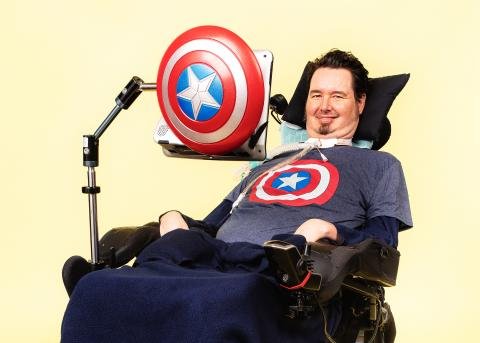 "The American Superhero" project officially launched on the Fourth of July, the date of American independence and Steve Rogers' birthday. (For the unacquainted in the comic book back story, Rogers is Captain America's real name.) The project showcases a range of people from all different types of backgrounds, ages and abilities.
"You don't have to look like Chris Evans to be an American superhero," said Gowdy.
"It's such a simple way to broaden people's visions of who gets to be American."
The project comes at a time when diversity and inclusion efforts are taking up more mainstream space. The group is focused on telling human stories to show that, once we get past the exterior, there's plenty to unite us. It's an extension of the work Singh has been doing for several years.