(CNN) When Dr. Swaiman Singh boarded a flight to India last December, he thought he would be there for a week, tops.
Back home in New Jersey, life for the 34-year-old was "literally perfect."
His career was taking off, with just a few months left in a three-year cardiology fellowship at Newark Beth Israel Medical Center and another prestigious opportunity lined up after that. He was a husband to a similarly ambitious wife and a father to a two-year-old daughter. He had the support of his parents and sister, who lived just a short car ride away.
Then, Singh got word that a close family friend from his ancestral village in Punjab, India -- someone like a grandfather to him -- had suffered a stroke at one of the sites in New Delhi where farmers had been protesting for months.
Singh figured he would get to the Indian capital of New Delhi, set up a clinic and pay some local doctors to staff it through a nonprofit he ran there. But once he arrived on the scene, he saw cases of heart attacks and cardiac arrest, of diarrhea and vomiting, of depression and fear.
"It just seemed like this is what I had trained to do," he says. "This was the reason that I became a doctor."
Singh extended his stay to 10 days, then two weeks and then three.
Months later, he's still there -- and can't imagine leaving...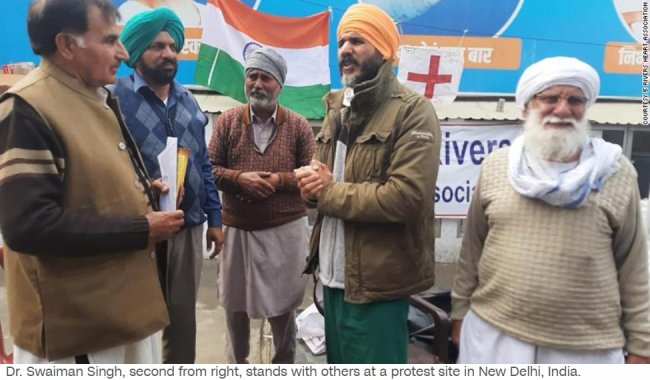 ...Singh's family was nervous about his decision
Singh had been closely following these developments from back home in New Jersey.
Each night, after working an 18-hour shift at the hospital, he would sit down with a cup of chai and catch up on the news in India.
"I was paying attention from day one," he says. "But I never in my wildest dreams thought I would go to India."
One day late last year, Singh was at his parents' house when he saw an image from the ground that concerned him, his sister Kamal Randhawa recalls. Someone was attempting to administer CPR to a protester, and was doing so incorrectly.
He turned to his sister and said, "I think I'm going to go."
Randhawa looked at him incredulously.
Her brother had always been the type to get out of his comfort zone to support those he felt needed it most. Still, the prospect of him traveling to India at the time, when tensions had been flaring up between protesters and police, was a little unnerving.
"People there need me," he told her.
Singh paced around for a bit, mulling things over. Then, he delivered the news to his parents.
"That's it. I'm going to go," he told them.
His father was immediately on board. When Singh's wife learned of the decision, she was worried but ultimately supportive, too.
Singh's mother, though, privately asked his sister if they should stop him.
"Mom, we can't stop him," Randhawa recalls telling her mother. "You've told him stories about your grandfather and his grandfather and my dad, how they were there for the people and they were there to do the right thing. We can't stop him. All we can do is support him."
This operation, run by Singh's organization 5 Rivers Heart Association, started as a makeshift clinic on a fold-up table outside. But the need, Singh says, was far greater than he imagined.
"A lot of people came with a lot of hope," he said. "You can see it on their faces, like I was their last chance."
Singh began chronicling the situation on the ground to a growing audience on Instagram, and locals in India and members of the Punjabi Sikh diaspora eagerly followed along.
He posted videos telling protesters where they could get healthy breakfasts of boiled eggs, where they could find public restrooms and why it was important not to abuse medications. He called for sympathetic backers to fund cleanup crews that could help tidy up the protest site. He issued pleas for blankets and toothbrushes, and for more doctors and volunteers.
Singh and an expanding team eventually took over the former bus terminal. It's since quickly become a sprawling community center.
In early January, Singh says a man died in his arms because of exposure to the cold weather. He couldn't fathom how -- in the 21st century -- someone could die due to low temperatures...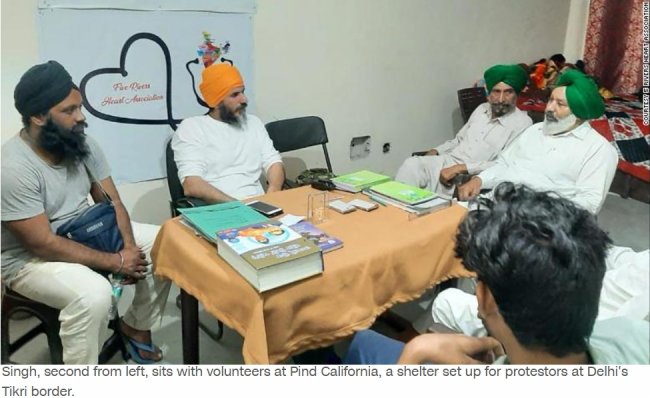 ...About 100 or so volunteers are on deck to assist with the various demands that arise each day, from accepting deliveries to operating the trolley service that carries supplies to protesters along the 27 kilometer stretch between the Tikri border and New Delhi.
And from when he wakes up around 7 a.m. to when he heads to bed around 1 a.m., Singh is never far, responding to whatever problem needs addressing at any given moment.
"Basically, it's fire after fire after fire," he says. "And you're always trying to take care of the fire."
Later, as the day winds down, Singh says he didn't ever imagine that he'd be living like this, sleeping on a thin mattress in the shelter he helped construct and taking bucket showers every other day.
But even though he's never farmed a day in his life, the grievances of India's farmers hit close to home...
...Singh says he didn't return to India for 13 years after he first left for the US. He had just entered medical school on his first visit back, and people in his family's village kept referring to him as "Doctor Sahib," an honorific akin to "mister."
Each time he would visit Punjab again, word of his arrival would travel fast, with people lining up where he was staying to get their questions answered and their ailments diagnosed.
About 10 years ago, he began organizing medical camps in his ancestral village of Pakhoke and other rural areas throughout Punjab. He founded 5 Rivers Heart Association, a nod to Punjab meaning "the land of five rivers," and teamed up with local doctors to offer health screenings, blood tests and free medications to people who otherwise had limited access to health care.
The love and respect he was shown, Singh says, affirmed his commitment to the people of Punjab.
"It's a connection that I can never break and after this, it's a connection that will never break," he says.
A critical test came on January 26
Things took a dark turn on January 26, when hundreds of thousands of farmers drove their tractors into the capital in a planned demonstration coinciding with India's Republic Day...
...Live streams from the city's streets showed police deploying tear gas and flash bangs as they tried to prevent crowds from breaking through barricades. Both police and protesters were spotted with large sticks in the streets.
Singh says his team set up a field hospital on the front lines, tending to wounded farmers and police officers alike while inhaling tear gas themselves. While they were providing medical care, Singh alleges that people in police uniforms -- who he believes may have been outside agitators -- started brutally attacking members of his team, leaving several of them injured.
The full extent of what happened and who ultimately instigated the chaos that day is still not entirely clear. But Singh says the violence, reported on by media outlets around the world, undercut the farmers' movement, which up until then had been peaceful.
Seeing the images that come out of that day left him disheartened, because he feels they didn't reflect the farmers he knows who have been fighting for their land, their incomes and their livelihoods.
"Humanity lost that day because the world saw an image of us that was not true," Singh says...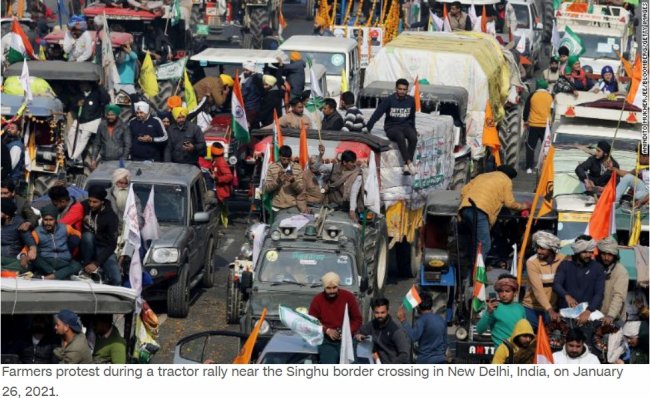 ...So for now, the farmers are still stationed outside their country's capital, asserting their rights and voicing their concerns. And as long as they're there, Singh will be, too, continuing to provide medical services for free.
"He's not coming back until this finishes," says Dhaliwal, his colleague.
Putting his career on hold to do this work hasn't been easy. Some colleagues have questioned Singh's decision to abandon his cardiology fellowship in his final year. He misses his wife and worries that he's losing out on precious moments with his young daughter.
Part of what keeps him going is knowing that his daughter will be proud of him when she is old enough to understand.
And when things get tough in the field, he thinks about the farmers in his family and about those protesting now who are so grateful for his expertise.
He keeps his mind in "Chardi Kala," the Sikh concept of relentless and eternal optimism.
And he soldiers on.