In the video below released by the Innovation Movement (advocacy group on behalf of entrepreneurs, via @amritsays), Amar Sawhney, CEO of Ocular Therapeutix, discusses being an immigrant and an entrepreneur in the United States.
In another 2010 story (see below) chronicling his road to entrepreneurial success, Amar Sawhney shares a story that is not uncommon among many immigrants who came to the United States in search of opportunity, and particularly those from India — arriving with very little money or social support in pursuit of education. Despite these challenges, Sawhney looked for opportunities out of challenges:
"People tend to be either optimists or pessimists," he said. "You have to be an optimist. Even if life gives you what might seem at that time an unfair hand, sometimes it's a blessing in disguise."
On a related note, the upcoming Sikholars conference at Stanford in California will feature a panel discussion about innovation and entrepreneurship in the Sikh community.
Jan 6, 2013

I am Amar Sawhney, I am innovation. I am the founder and CEO of Ocular Therapeutix. I wasn't born here but I innovate here. Throughout our endeavors, my co-founder and I have helped employ probably around 1,500 people with combined revenues of well over one billion dollars. I obtained my Masters from University of Texas, Austin in chemical engineering. After graduating, I applied to about 30 places but because I did not have a visa, I was turned down by every one of them. The place to create new technologies is the U.S. because of the venture capital and patent systems. The ecosystem for entrepreneurship is in America.



Amar Sawhney: Blessings in disguise
By Kathleen Mabley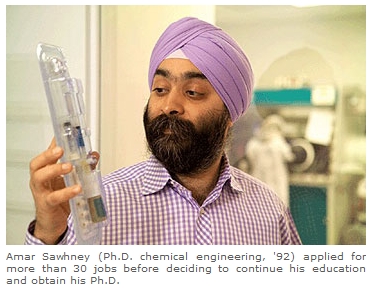 When Amar Sawhney (Ph.D. chemical engineering, '92) arrived in Austin to pursue his graduate degree, he had $500 in cash that came from the sale of his mother's jewelry and two suitcases — the most he could bring from India. He didn't know anyone, didn't have a place to live and wasn't selected to work on any of the graduate projects he applied for.

Today, he is co-founder of a medical device incubator, has started six successful companies throughout his career and has a foundation for his philanthropic work supporting education, the environment and children, particularly in India.

Sawhney has faced many crossroads in his life where the tried and tested path was not available to him.

"People tend to be either optimists or pessimists," he said. "You have to be an optimist. Even if life gives you what might seem at that time an unfair hand, sometimes it's a blessing in disguise."

Sawhney's first blessing in disguise came in the form of a young professor, Dr. Jeff Hubbell, who was working on innovative approaches to biomaterial and took Sawhney on as one of his students.

"After finishing my master's, I applied for about 30 different job opportunities and 29 summarily denied me because I didn't have a green card," he said. "Eastman Kodak gave me an interview, but I think they messed up and didn't read my application. It was devastating. I didn't know what to do — should I go back to India? I couldn't get a job."

Then came a second blessing in disguise.

"My adviser said, 'You are a half-decent researcher, why don't you stick around and work on a Ph.D.?' That was one of the most seminal moments of my life — the seminal step that took me down the path of entrepreneurship. It came about entirely by accident. I could very well have gone with my tail between my legs back to India."

Working with his adviser and a postdoctoral fellow, the team developed a technology that enabled them, for the first time ever, to use light-activation to perform chemistry in contact with living tissue without killing the tissue — a process critical for tissue repair.

Some venture capitalists approached Sawhney's adviser to start a company in Boston and once again, Sahwney found himself at a crossroads. Without a plan for after graduation, he created a job for himself, becoming the company's first employee. Since that time, Sawhney has started six companies and is co-founder of Incept, an incubator for new companies.

"I had to create my own jobs and opportunities," Sawhney said. "On one hand you could see that as a disadvantage. On the other hand you could see that as a blessing because it helps you be an entrepreneur. If it doesn't exist, you just have to go make it.

"If I had gotten a job, it probably wouldn't have had the same impact that I've been able to have now. Each of us tend to get comfortable where we are. Sometimes you have to be uncomfortable to be able to do more significant things. I'm glad adversity was thrown at me, because if life had been easy, I probably wouldn't have been able to do most of the things that I'm doing now."