The Air Force on Friday became the second branch of the U.S. military to approve the wearing of beards, turbans, hijabs, under-turbans/patkas, unshorn hair and other indoor/outdoor head coverings for religious reasons.
According to the updated regulation, "Dress and Personal Appearance of Air Force Personnel," the Air Force allows all such apparel and beards as long as the airmen wearing them make it through a religious accommodation waiver process, that they appear "neat and conservative," and that the apparel and beards don't interfere with personal safety...
...The regulation follows years of individual airmen and other service members receiving waivers for religious beards and apparel. In 2018, Staff Sgt. Abdul Rahman Gaitan became the first Muslim airman to receive a religious accommodation beard waiver. Last year, Capt. Maysaa Ouza became the first Air Force Judge Advocate General Corps officer to wear hijab.
Also in 2019, Airman 1st Class Harpreetinder Singh Bajwa became the first Sikh airman to receive an accommodation for a turban, beard and unshorn hair, and two Norse Heathen airmen were also allowed to grow beards.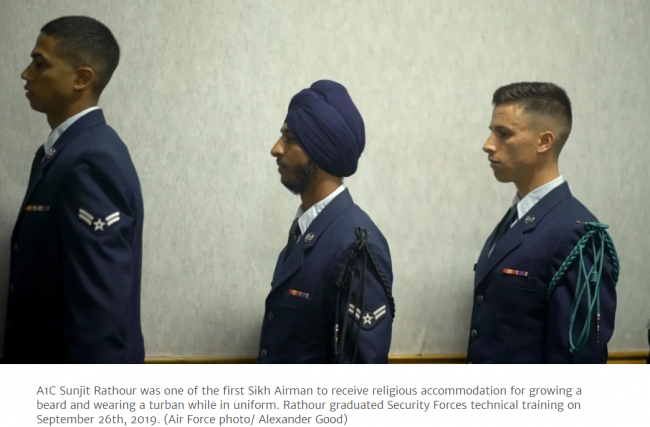 ...The same "neat and conservative" approach applies to beards, which must not exceed two inches when measured from the bottom of the chin, the regulations states. Beard hair longer than two inches must be rolled and/or tied to achieve the required length. Airmen can use styling products on their beards, but petroleum-based products are not allowed while wearing a protective mask.
For those wondering, the regulation says that "a mustache worn with a beard may extend sideways beyond the corners of the mouth to connect with the beard, but must be trimmed or groomed to not cover the upper lip."
The Air Force is first in many things, but in this case the branch came in second to the Army, which in 2017 became the first military branch to grant religious exemptions for beards, turbans and hijabs. The Sikh Coalition said the Air Force regulation closely resembles the Army's. The Coalition said both changes were influenced by a years-long advocacy and litigation campaign by the Coalition and its pro bono co-counsel at McDermott Will & Emery.