(RNS) — The news came Tuesday evening (March 24) here in the United States: Four gunmen had entered a Sikh gurdwara, or place of worship, connected to a housing complex in Afghanistan, in the old city neighborhood in Kabul, and opened fire on the congregation. After a six-hour siege, 25 Sikhs were confirmed dead. Several others were injured, and dozens more required rescue. The Islamic State group, known as ISIS, claimed responsibility for the attack.
The images from the scene were horrifying. Fresh corpses lying limp in a house of worship. Streams of red underfoot as firefighters washed away the blood. Family members in their most tender moments of grief.
On Thursday evening, the Sikh community in Kabul came together to grieve the murdered and cremate their bodies. That service was also disrupted, by a bomb blast.
...The terrorist attack in Kabul targeted a 400-year-old gurdwara, a relatively old community for Sikhism, given its founder, Guru Nanak, was born only 550 years ago. Sikhs have made Afghanistan their home for centuries. Yet, they, along with other minorities, have been pushed out in recent years due to increasing religious intolerance and violent terrorism like the attack that took place on Tuesday evening....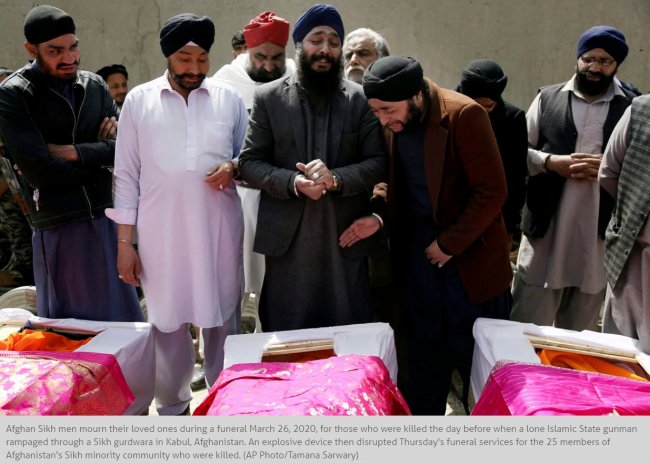 ...Reflecting on this religious intolerance, the long history of anti-Sikh violence in India and the racism in Western countries like Australia, England and the United States, one has to ask: Is there anywhere Sikhs can live with safety and dignity?
Approximately a quarter million Sikhs and Hindus are thought to have lived in Afghanistan in 1992. By the turn of the century, most had fled and only about 3,000 remained, according to the U.S. State Department. Recent figures estimate that only about 1,000 Sikhs and Hindus are left.
Many have sought refuge elsewhere. In 2019, Canada opened its doors to 65 Afghan Sikh and Hindu refugee families. As he facilitated their entry and welcome, Canada's minister of immigration, Ahmed Hussen, shared in the House of Commons his concern about the persecution of Hindu and Sikh minorities in the country and why he believed Canada should play a leading role in resettling these refugees. 
There a few measures the United States can take to stop the persecution of Sikhs in Afghanistan. For one, we need to do more to acknowledge and bring attention to the deadly ongoing human rights crisis there. In 2019, the U.S. government provided approximately $5 billion in aid to Afghanistan. Moving forward, some of that aid must be made contingent on protecting religious minorities in the country.
But before there are more attacks, it is morally imperative that the White House make sure that the remaining few minority families in Afghanistan have safe refuge in the United States or Europe.