People got through the isolation period at the start of the COVID-19 pandemic in a variety of ways, from baking bread to learning a new language.
For 8-year-old Anaik Sachdev from Phoenix, Arizona, books became his salvation during those long, lonely weeks at home.
Anaik's family was hit hard by the virus. After a spring break visit to New York his mother Anjleen Gumer became ill. His grandmother soon followed, and she required hospitalization but ultimately pulled through. Anaik's dad got the virus next.
As his family struggled to recover Anaik spent hours alone at home. He started reading every book he could, discovering that books offered the perfect mental escape in a topsy-turvy world...
...Anaik set a modest goal of getting 150 donated books to start, but soon that goal was set aside in favor of a more robust 250 books. Each donated book is shipped directly to Anaik's house. It's then sanitized and brought to Valley Wise to be distributed to isolated COVID-19 patients.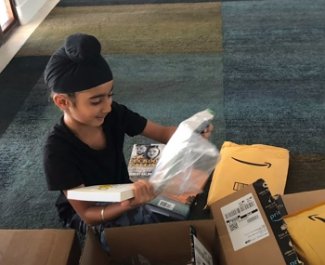 "They were not feeling well and they can't be around other people, so they're feeling very lonely," said Anaik. "We decided to come up with Loving Library so they could entertain them with books."
When asked why he started the Loving Library, Anaik simply says reading, "helped me a lot and I think it could help them a lot." He's still accepting donations from his Amazon list and hopes to expand the Loving Libraries to other cities soon.
At just 8 years old Anaik is already thinking about how to help other people through this worldwide health crisis. We should all aspire to be this empathetic and hardworking!