What is your definition of a hero?
For me, a hero is someone who does noble acts, brave deeds, or outstanding service to humanity. Today, I am writing about a 76-year-old Delhi resident who lives up to all these ideals and expectations. So unassuming is Harjinder Singh that when I speak to him, he sheepishly tells me that he is famous on Facebook where a few pages have featured him. Little does he know that he is known well beyond the confines of social media.
He begins by telling me about the various positions he has held over the years, "I have been a Traffic Warden for the Delhi Police and also the General Secretary of the Autorickshaw Union. Having started as an autorickshaw driver in 1964, it has been over 55 years since I have been driving and not once have I got any challan or even been stopped by traffic police," he says with pride.
I ask him what he did as a Traffic Warden, and with great enthusiasm, he tells me,
I acted as a bridge between the Delhi Traffic Police and the general public. It was a big thing for an autorickshaw driver to be named a Traffic Warden, there was even a press release that was issued for the same.
Singh recently made news headlines for running an "auto ambulance" on the streets of Delhi. The autorickshaw that Singh drives is well-stocked with a first-aid kit that contains all the emergency requisites like bandages, antiseptic lotion, cream for burns and paracetamol. To ensure that he had the basic knowledge of administering first-aid, he underwent training himself.
Having started this service in 1978, Singh says, "I will do this until I breathe my last."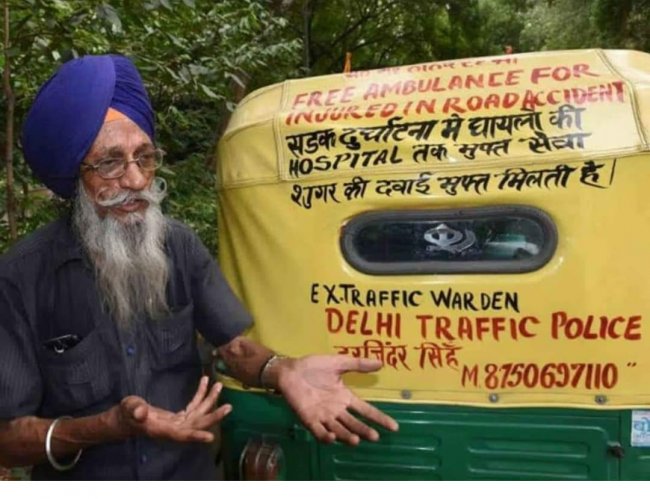 When I asked what the source of his deep commitment to the community was, Singh shares, "I remember the time when there were floods in Delhi. I, as a part of the Sikh community, got together with many others and did seva (service) wherever I could. That ended, but my desire to continue to help people did not. So, around that time, I started the free auto ambulance service."
Whenever I see an injured person on the street, I make it a point to take them to the nearest hospital so that they can get immediate medical assistance, says Singh.
When asked if he can share the number of people he has helped over the years, he says, "So many, but I have never kept a count. Earlier on I would get certificates from the hospital for this, but then I have helped so many that I have just lost count."
Just as I pose my next question, he hurriedly asks me if we can speak at a later time since he had just received a call about an accident. As his autorickshaw displays his number, many people, who have saved the same, reach out when they encounter an accident on the streets of Delhi.