the Sikh Empire by Priya Atwal, I emailed a dozen American friends to ask them to list characteristics they associate with Sikhs. Martial, said most of them of this ethno-religious group from India's Punjab, whose men are distinguished by their turbans and the surname Singh. Others said devout, enterprising, hard-working and uncomplicated. One even listed "big drinkers," tapping into his personal experience as a sales rep with a Sikh colleague in Minnesota. All these attributes—including the last—were abundantly manifest in Ranjit Singh, who founded an empire in 1799 that blazed with startling success in his lifetime only to fizzle out 50 years later, when it was seized by the British from his 10-year-old son.
Ranjit Singh's wine, made from raisins and powdered pearls, was (as a British diarist wrote) "as strong as aquafortis, and as at his parties he always helps you himself, it is no easy matter to avoid excess." He also had numerous wives and concubines, but the appetite for which he is best remembered is the one for territory. At its height in the 1830s, his empire stretched throughout northwestern India into Afghanistan and Tibet and was, Ms. Atwal writes, "one of the subcontinent's most stellar success stories—rivalling for a time that other major player to emerge in the same era, the East India Company." The Mughal Empire—founded in the early 16th century—was "crumbling away" by the beginning of the 19th, and "power and territory were very much available for the taking." And take Ranjit Singh did.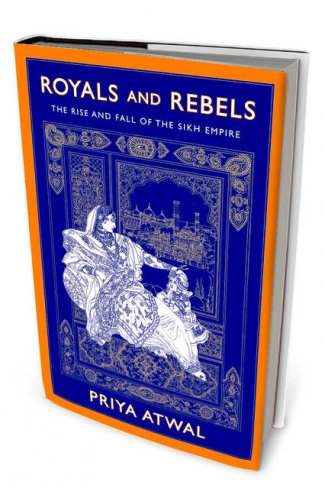 Ms. Atwal is a 30-year-old British historian, a Sikh who has recently finished a doctorate at Oxford University. Her parsing of history is as refreshing as the fluid ease of her writing, and she pushes back against some eminent Sikh historians who have had trouble digesting Ranjit Singh's self-designation as maharajah—or emperor—seeing it as an "un-Sikh" act. Even as they laud him for his conquests, these historians argue that "the hierarchical nature of dynastic rule actually goes against the egalitarian principles" of the Sikh religion.
Sikhism was founded by Guru Nanak in the early 16th century and is a syncretic religion comprising aspects of Hinduism and Sufi Islam. For Sikhs, God is—as Ms. Atwal explains—"all-pervasive throughout the universe, . . . without gender or concrete form, present in every individual and every object." The historians who argue that Ranjit Singh's imperial hierarchies were at odds with the religion assume Sikhism to be, in essence, republican. Not so, says Ms. Atwal, who counters with a clear-eyed account of the "monarchical habits" of many of the Sikh gurus, the 10 teachers who consolidated the faith. She describes Arjan Dev and Hargobind, the fifth and sixth gurus, as "scholar prince" and "warrior king," respectively, and the 10th and last, Gobind Singh, as "the most regal Guru of all."...
...Ms. Atwal charts all of this history with flair and economy, but her real contribution is her shedding of light on the royal women who surrounded Ranjit Singh. She expresses her distaste for the "gendered" accounts of the Sikh Empire but is not a doctrinaire bore about this. We learn of the role played by his mother, Raj Kaur, who was his regent when he became a 12-year-old chieftain, as well as the contribution of Sada Kaur, the mother of his first wife, who taught him how to act "as a gracious conqueror."
But the uncontested heroine of Ms. Atwal's book is Jind Kaur, Ranjit Singh's youngest wife, who came to control the Sikh Empire some years after his death in 1839. The daughter of the royal kennel-keeper, she was the lowest-born of his spouses and was regent for their son Duleep Singh between 1843 and 1846. Remarkably, she had "the responsibility of managing the kingdom thrust upon her whilst still in her early twenties, and under deeply treacherous circumstances." Duleep, the fourth and last of Ranjit Singh's sons to ascend to the Sikh throne, was just 5 when he became emperor, after his older brother was murdered.
To the covetous British, Jind Kaur was a nuisance, standing in the way of their annexation of the Sikh Empire. Their propaganda painted her as licentious—a "whore"—and Ms. Atwal acknowledges that she could be hot-headed, leading the Sikhs into disastrous wars with the British. She was imprisoned in 1847, and two years later young Duleep—now under British tutelage—signed a treaty handing over his lands and wealth to Britain. In a final flourish of rebellion, Jind Kaur escaped her captors and trekked across India to Nepal. Duleep, ignominiously, was exiled to Britain, where he captivated Queen Victoria briefly with his companionship, eventually dying "a broken-spirited man, alone in a Paris hotel room" in 1893. He had converted to Christianity in exile. That, more than any other part of the fate that befell a once-proud empire, would have broken Ranjit Singh's fiercely Sikh heart.
Mr. Varadarajan is a Journal contributor and a fellow at New York University Law School's Classical Liberal Institute.
Editor's note: An earlier version of this story misstated author Priya Atwal's age.