Do you know someone who does not have a computer?
Have a family member who is not comfortable with computers?


Want a simple way to listen to the hukam every day or Live Kirtan from Harmandir Sahib?
Now there's a simple, FREE solution.
It's easy!  - Just dial the SikhNet Daily Hukam phone line!
Every day tens of thousands of people get the Daily Hukamnama from Harmandir Sahib (Amritsar) on SikhNet or in their email inbox. Here at SikhNet we are always looking for new ways to spread the Guru's inspirational message. Therefore, we are happy to release this new service which enables more people to share in the inspiration the Guru's Hukam provides to us each day. 

Not only will you have the option to hear the original daily hukamnama on your phone, you can also hear an explanation of the hukam (katha) in English or Punjabi.

Perhaps you have a friend or family member who does not have access to, or is unable to use a computer. If so, be sure to note down the phone number and let them know! Now, whether you are a regular computer user or you don't use a computer at all, just dial your telephone to hear the Guru's Hukamnama every day.
 
When you dial in, you can listen to:
Live Gurbani Kirtan from Harmandir Sahib
Pre-Recorded Akhand Path from SikhNet Radio

The English translation/katha of the Hukam

The Original Hukam as read at Harmandir Sahib
The Punjabi translation/katha of the Hukam

Daily Hukam Telephone Access Numbers:
In the U.K. +44-33-0606-1326
In the USA +1-712-775-5615
In Australia +61-02-8080-5643
This is a free service, however normal telephone/long distance charges may apply.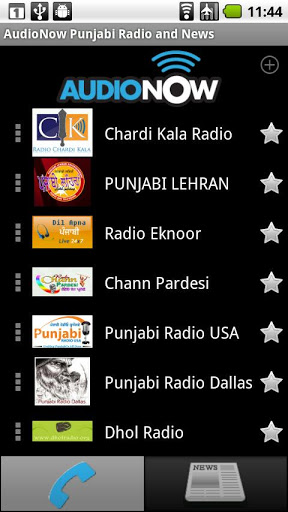 Have an Android phone but don't want to use your data plan? Listen to SikhNet radio, daily hukam, news & other Punjabi content via telephone using this simple mobile app.
The industry's first radio station app that allows users to listen to their favorite Punjabi radio stations without using a data plan by using your device's native dialer app and voice plan.
How does it work? AudioNow has compiled the most popular Punjabi radio stations on its platform and compiled them in one user-friendly app. One of the largest complaints we hear from people who stream radio live on their phone is the amount of data this method necessitates. Therefore, our system relies on outgoing calls. We do all the heavy lifting by providing you with a phone number which broadcasts the live-stream. The app directly connects you to the station of your choice by dialing the number associated with that station. Takes no data. Pretty cool, isn't it?

Featured Stations: Chann Pardesi, Punjabi Lehran Radio, Punjabi Radio Dallas, Punjabi Radio USA, Punjabi Zindabad, Radio Chardi Kala, Radio Eknoor, Radio India, Sanjha Punjab, SikhNet Radio, Radio Punjabi Tehelka, and many more.
 Want a Local Number in your Area? Sponsor a phone number. It is possible to have a local phone number in other countries as well, however in order to do so we would need someone from the sangat to sponsor the phone line costs related to that particular local access number.
If you wish to sponsor an additional phone number in your country, you can do that. Just contact us (or use web contact form). We would request you to commit to paying the necessary charges for the number(s), which will vary depending on how many people use that phone line and how many minutes are used. It costs 1/2 a cent (USA) per minute + monthly fee of about $1-10 depending on country of phone number. To give you an idea of potential cost per month: Currently about 1,000 minutes are used per day for each of the phone lines. So if we average to 30,000 minutes /month and divide .005 (half a cent per minute) it comes to about $150 USD/mo of usage.