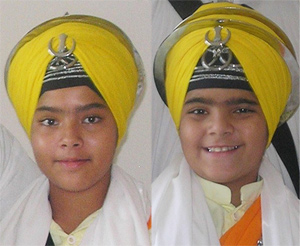 Commemorating the 25th anniversary of the, 1984 Sikh Genocide, we are presenting this movie in the memory of  the sons and daughters of the Sikh Nation who lost their lives in a ruthless massacre that has disturbed the psyche of  every Sikh connected with his or her religious roots.
By presenting the movie "Kivein Bhullaan", by presenting the movie "Kivein Bhullaan", we, your children, have made a humble attempt to connect ourselves with the silent and painful struggle of Sikh nation towards justice.
The movie "Kivein Bhullaan" express the pain inflicted on the Sikh nation by the 1984 holocaust. Although the characters shown in this video are not real, they truly represent what the Sikh nation experienced during the genocide. This story is about a Sikh woman named Gian Kaur who experienced both the June attack on the Golden Temple and the anti-Sikh pogroms of November 1984. She lost all of her family except her daughter in law Gurleen when Indira Gandhi ordered the Indian army to attack Akal Takhat and Darbar Sahib. Six months later, in November of 1984, she also lost Gurleen. We are going to present the condition of Gian Kaur's life after the events of June and November 1984. How she has been affected by the murder of her father, son and grandson in the Harmandar Sahib complex and by the gang-rape and scorching of her daughter-in-law during the November anti-Sikh pogroms, both of which she witnessed with her very eyes.
Although we cannot see any hope, and this night of atrocities and suffering does not seem to end,  the our rich heritage built by Guru Sahibs and Sikh ancestors give us the message of Charhdikala and Sarbat Da Bhala (High Spirit and Goodwill of All).
1st place competition winner in 2009
for age group 11-17
Directed by:

Japman Kaur

(

Age:

12

)

& Triman Singh

(

Age:

9

)

Location:

Windsor, Ontario – Canada


Length:

23

min,

51

seconds
What did you think of the video? Leave a comment...