The World Sikh Organization is welcoming new Canadian regulations that will allow Sikhs to wear small ceremonial daggers on most flights.
Transport Canada announced that, as of Nov. 27, it will update its Prohibited Items List to allow for blades of six centimetres or less on all domestic and international flights, except to the U.S. 
The new rules mean Sikhs can travel with a kirpan — a ceremonial blade that is worn sheathed and underneath clothing — so long as it's small enough to meet the requirements. 
"This isn't really a change based on religious accommodation," Balpreet Singh, legal counsel for the World Sikh Organization (WSO), told As It Happens host Carol Off.
"It's a change that brings Canada in line with international standards."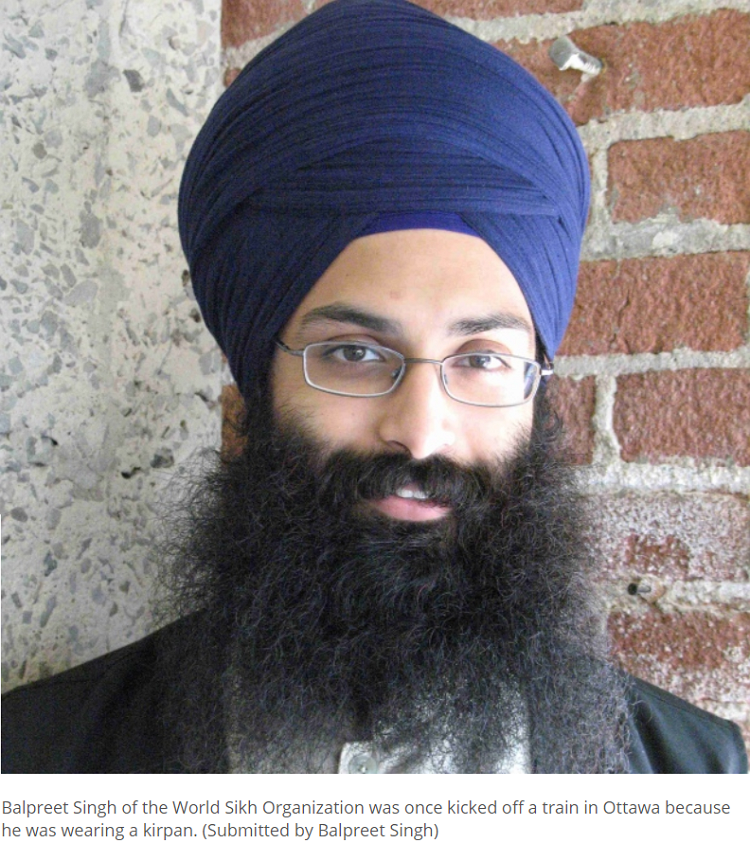 The new rules bring Canada in line with the International Civil Aviation Organization, a Transport Canada spokesperson told As It Happens.
Razor blades and box cutters of any size remain banned.
The new rules also prohibit more than 350 millimetres of certain powders and granular materials, such as baby powder or bath salts, from being taken through screening checkpoints in Canada.
"The safety and security of Canadians, the travelling public, and the transportation system are Transport Canada's top priorities," Transport Minister Marc Garneau said in a statement.
"These changes to screening procedures will bring Canada in line with international standards and our partner countries, while continuing to keep passengers safe. The Government of Canada remains vigilant in continuously assessing security risks."
What is a kirpan?
The kirpan is one of five articles of the Sikh faith. Devout Sikhs wear them at all times, sheathed and in a fabric belt holder, underneath their clothes.
It is not considered a weapon by Sikhs, but rather a symbolic reminder to stand up against injustice for righteousness, Singh said.
They were first banned for most air travel after the Sept. 11, 2001, attacks on the United States. 
 'It's not worn as a weapon and we don't see it as one.'- Balpreet Singh, World Sikh Organization 
"The Sikh community went with that change and we respected the security conditions at that time and we said, 'OK, Sikhs that want to travel by air will have to check their kirpans,'" Singh said.
"But I guess the government has now recognized that small blades really aren't an issue and Sikhs who wish to travel with the kirpan can do so, as long as it's under six centimetres."
Kirpans in Canada
Kirpans have long been a source of controversy in Canada, a fact that Singh is all too familiar with. 
In 2007, when he was still a law student, Singh won a human rights settlement against Via Rail after he was kicked off a train in Ottawa for wearing his kirpan.
"Every single passenger in first class gets a steak knife to eat their meal," he said. "Why would my kirpan be any more dangerous than a knife that every passenger is getting?"