Mundill Mahil's trial for the murder of Gagandeep Singh
Updated 9th December, 2011:
LONDON: In a case that has seen unattractive and raw human emotions at work, an NRI medical student ordered two "gangster friends" to kill a "besotted" Sikh television executive in revenge after he tried to rape her.

Mundill Mahil, 20, lured millionaire Gagandip Singh to her house, where he was beaten unconscious then bundled into the boot of a car and burned alive, a jury was told in a court on Tuesday.

She allegedly told friends she wanted Singh dead - and, the court heard, persuaded another man who was infatuated with her to murder him.

Singh, 21, was killed in February, after the "intelligent and attractive young woman" convinced him, through a series of text messages, to come to her student digs in Brighton at 11pm, prosecutors told the Court.

But when he walked into her bedroom, carrying a teddy bear and flowers, he found Harvinder Shoker - who was also in love with Mahil - and "hired muscle" Darren Peters waiting for him, the court heard.

During the beating Singh - the owner of a new broadcasting service called Sikh TV - screamed Mahil's name and begged for help, it was claimed.

The two men, both 20, wrapped the victim in Mahil's duvet and bundled him into the boot of the Mercedes he arrived in, then drove to a quiet street in Blackheath, south-east London, doused the car in petrol and set it alight, the Old Bailey court was told.

A post mortem examination revealed Singh was still alive when the fire was started.

Prosecutor Aftab Jafferjee told the jury that the attack was carried out to "exact revenge and retribution" on Singh, whom Mahil knew "remained besotted by her".

"At the heart of this case there lie some unattractive and raw human emotions at work", he said.
At the Old Bailey court, defence lawyer Michael Birnbaum said Mahil was 'horrified' by the murder.

"She acknowledges a substantial amount of moral responsibility for the death of Gagandip," he was quoted as telling the jury on Wednesday.

"It goes without saying this is a most dreadful killing and you will have sympathy for the friends and the family of young Gagandip."

But Mahil denies ordering her 'gangster friends' Harinder Shoker and Darren Peters, both 20, to kill Singh, the owner of a news broadcasting service, Sikh TV, in February, the report said.

Instead, Birnbaum told the jury his client, who was a 19-year-old student in her second year at Brighton and Sussex Medical School at the time, had only planned to 'lecture' Singh about how to treat women.

The pair had become close in 2009, but Mahil had resisted his romantic advances. She allowed Singh to stay on the sofa at her student home in Brighton in August 2010.

But during one night he came up to her bedroom and committed "a most serious sexual assault". Birnbaum said the attack may not have been attempted rape but to Mahil "it felt like it".

She did not report the attack to the police or tell her family because she "felt too ashamed".

Later she learnt that Singh had harassed other women and "felt betrayed" by his behaviour, the paper said.

---
Updated 1st March 2011: A teenage girl has been charged with the murder of her wealthy TV executive boyfriend in a suspected love triangle.
Mundill Kaur Mahil, 19, appeared in court yesterday after Gagandip Singh's battered body was discovered in the boot of his burnt-out car.
She is alleged to have lured the owner of satellite channel Sikh TV to Brighton where he was killed.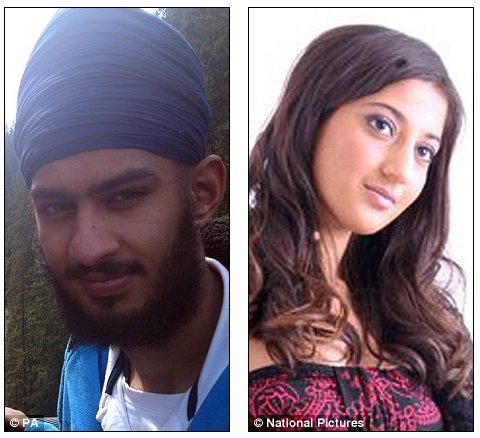 Accused: Medical student Mundill Kaur Mahil, right, has appeared in court over the murder of her wealth TV executive boyfriend Gagandip Singh, left
His body was bundled into the boot of the C-class Mercedes Benz which was driven to London and set ablaze in a muddy suburban lane.
Mr Singh, 21, of Bexleyheath, South-East London, had suffered severe head injuries, a post-mortem examination revealed yesterday.
The fire was discovered in the early hours of last Saturday by a passing police patrol.
Mahil, from Chatham, Kent, is a medical student at Brighton University and had allegedly started a relationship with another man.
She clutched a sleeve of her cream cardigan and held it to her mouth as she was led before magistrates yesterday.
At the hearing in Greenwich, she also wore tight black trousers and a fitted green sweater.
The student is accused with Harvinder Singh Shoker, 19, who stared at her as he was led into the dock and told to sit down. Only a prison guard separated them.
Shoker, from Charlton, South-East London, had a bright orange turban, wore a white sweatshirt and jeans, and spoke only to confirm his name.
District Judge Fiona Barrie remanded them in custody until further hearings at the Old Bailey. Members of the entrepreneur's grieving family watched from the public gallery.
It is the second brutal death to afflict them.
Gagandip's father Charanjit Singh was shot in an apparent contract killing in India in 2009 over a business deal. Five people are due to stand trial in India for his murder.
Gagandip had become head of the family and had been arranging his sister's marriage.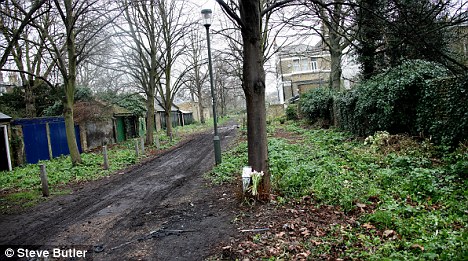 Tributes: Flowers next to the charred tree where the dead body of Gagindip Singh was found in the boot of a burnt out car
Last night his family paid tribute in a statement saying: 'Gagandip was a humble young man who valued a religion that promotes peace and spiritual service.
'Embracing both religion and Western culture, Gagandip was known as a young entrepreneur and had taken the leading role of his family business since the tragic death of his father.'
A close friend added: 'This was brutal. Absolutely brutal, the way he was killed. The entire family is distraught.
'He was very influential and very prominent in the Sikh community. When his father died, he had to pick everything up.
'His mother has to deal with the death of her son as well.'
Yesterday two bunches of flowers were left as a tribute where Mr Singh's body was found in Blackheath, South-East London.
Last night, police arrested another 19-year-old man in connection with his death.
Forensic officers were continuing to search Mahil's three-storey terraced home in Brighton, which she shared with five other medical students.
![endif][/htmlcomment]