"Even though they have nothing, education provides them with a place to go, a uniform to wear, something to eat every day and books. What that does to that child who is now not just sitting on the street, it gives them a purpose. It gives them something to look forward to, it allows them to socialize, to make friends, to have somewhat of a normal childhood."
Manika Kaur saw that her last album could raise money to do such good seva. With her new album she is raising money for a children's school in India. The children are featured in the music video, "The kids are just amazing. It was so hot and they didn't complain. All the kids you see in the video are the kids that are being educated through this initiative. It's just incredible, you can see it on their face. They're not acting, they're really showing you what it's like."

Published on Aug 9, 2015

Music   "Aukhee Gharhee (feat. Jyotsna Srikanth)" by Manika Kaur (iTunes)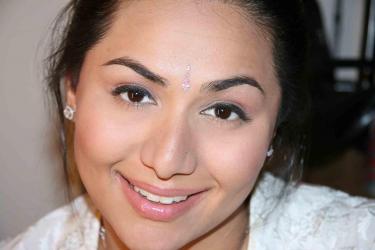 Not many of us develop a unique style of presenting devotional music at a young age; fewer still blend Gurbani with modern rhythms and tunes which appeal to the young and old alike; and far too few devote their singing to various causes they feel passionately about.
Manika Kaur's debut Kirtan album, Bandhana, encompasses all of the above ... and more.

source: http://www.sikhnet.com/gurbani/artist/manika-kaur-kandhari