An Oak Creek Sikh temple member, who lost his mother in the Aug. 5 shootings, is among those scheduled to testify Wednesday.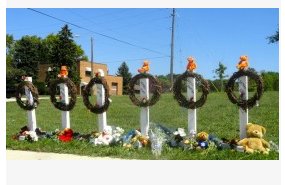 National Sikh community leaders and a member of the Oak Creek Sikh temple are preparing for a U.S. Senate hearing Wednesday on violent extremism, held in response to the Aug. 5 shootings at the Sikh Temple of Wisconsin.
Harpreet Singh Saini, whose mother was killed in the attacks, will be among those speaking at the hearing.
In his testimony, Saini will request the FBI give his mother "the dignity of being a statistic" and start tracking hate crimes against Sikhs, according to the New York-based Sikh Coalition.
The FBI does not keep track of hate crimes against Sikh-Americans, as it does other religious and racial groups, and national Sikh groups renewed calls for that to change following the attack at the Oak Creek Sikh temple, including an online petition urging the change. Wade Michael Page was long involved in white supremacist groups before he entered the Oak Creek gurdwara (Sikhs' place of worship) and killed six people and wounded four others.
The Sikh Coalition says Wednesday's hearing, which begins at 1:30 p.m. central time, is the first Congressional hearing on the threat posed by domestic extremists.
The Senate immediately responded to calls for a hearing, indicating the severity of the problem, the group said in a news release.
"As the tragedy in Oak Creek reminded us, the threat of domestic extremist hate violence is real, ever-present, and growing," said Amardeep Singh, co-founder and program director for the Sikh Coalition. "The topic of domestic extremist hate violence certainly needs a Senate platform. We expect that the hearing will bring this problem to light and explore the solutions needed to prevent another Oak Creek from happening."
The hearing will be held before the Senate Judiciary Subcommittee on the Constitution, Civil Rights, and Human Rights, chaired by Democratic U.S. Sen. Dick Durbin and streamed online.
--------------------------
Sikh Memorial: 'Their Death Isn't In Vain'


People from around the world came to Oak Creek High School Friday morning for the funeral of six people who died in attack at the Sikh Temple of Wisconsin.

Mark Schaaf
http://oakcreek.patch.com/articles/sikhs-to-testify-at-u-s-senate-hearing-on-hate-crimes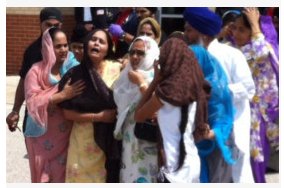 The caskets came in one by one.
In a mostly empty gym, before thousands of people would file in, members of the Sikh community brought in the bodies of Prakash Singh, Sita Singh, Ranjit Singh, Satwant Singh Kaleka, Paramjit Kaur and Suveg Singh.
Six trips into the gym and back out. Each one only underscored the magnitude of Sunday's violent attack at the Sikh Temple in Oak Creek.
On Friday morning inside the Oak Creek High School gymnasium, family members and friends remembered the victims' lives while people from around the world came to pay their respects.
Mourners began lining up outside the high school just after 8 a.m. and made their way through the gymnasium throughout the 90-minute service, with the gym not able to hold everyone at once.
The service included remarks from U.S. Attorney General Eric Holder and Gov. Scott Walker, while pictures of the six departed members of the Sikh temple were shown on a projection screen.
Speakers not only remembered those lost, but urged those watching in the gym and on television around the world to use Sunday's events to unite against hatred.
"They died in a place where God could take them," said a family member of Suveg Singh. "Their death isn't in vain."
They talked of Satwant Singh Kaleka, who came to America with $100 in his pocket but successfully built the temple from the ground up.
They spoke of Prakash Singh, who only recently was reunited with his wife and children from India.
And of Paramjit Kaur, a loving mother who always put others before herself.
Selflessness, in fact, is a common thread among all six who perished at the temple.
What is not common, and not discussed, was thoughts of revenge.
Quoting Jesus, Pardeep Kaleka said, "We must not fight hate with hate."
Holder noted immigrants' long history in the United States, particularly the upcoming 100th anniversary of the first gurdwara in the country. Gurdwara is the word for a Sikh place of worship.
But he also said that violence against Sikhs has become too common in recent years. Everyone must ask themselves, Holder said: "What kind of a nation do we want to have?"
"Last Sunday morning, this community witnessed the very worst of humankind," Holder said. "But for every minute, every hour, and every day since then, you have exemplified and you have inspired the very best in who we are."
Walker added: "No matter what country your ancestors came from, no matter where you worship ... as Americans, we are one. And when you attack one of us, you attack all of us."
Afterward, Sikh community members gathered at the Sikh Temple and local funeral homes for private ceremonies.