Sikh Parades draw thousands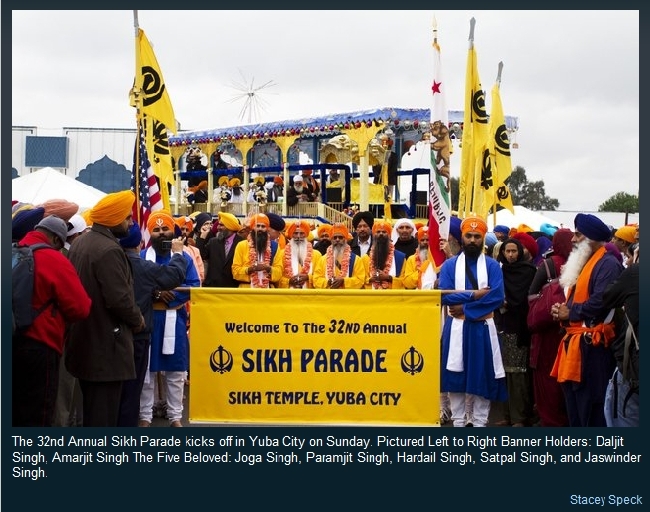 Sikh Parade draws thousands to Yuba City


November 07, 2011: Daljit Singh and her friends came from the Bay Area on Sunday to see their culture celebrated on a grand scale.
Though the five women had grown up in India, the Nagar Kirtan, or religious processions they had experienced in the cities of Punjab state, had been much smaller local affairs.
"We don't have anything of this scale," said Singh.
None compares in size or scope to the annual Sikh Parade in Yuba City, they said of the event that has attracted between 65,000 and 85,000 spectators and participants in recent years.
On Sunday, as small children and young men offered freshly prepared Indian food, cold drinks and hot chai to visitors approaching along the parade route, Avtar Singh, a member of the Sikh Motorcycle Club of British Columbia, grinned broadly, taking it all in.
"The rain has cleaned everything," he said, grinning from his place in the slow-moving procession on Tierra Buena Road. "And now, it's perfect."
The gleaming road bikes, trucked down from Vancouver, Canada, for the event, inched along, bearing 15 smartly dressed men, each wearing the bright orange turban favored for religious observances.
Their club was formed in the celebratory aftermath of a court case in Canada in 1999.
Until the court's ruling, it had been illegal to ride without a helmet — a fact that interfered with the Sikh religious practice of wearing a turban.
Sunday's ceremonies in Yuba City, and those of the previous two days, marked Guru Gobind Singh's creation in 1699 of the Sikh holy book. The 1,430-pages of scripture ended the age of living gurus, and began one that sanctified important gurus of the past.



Many spectators carried umbrellas and wore rain jackets over traditional northern Indian clothing or less traditional Yuba City weekend wear. But the rains held off on Sunday, and mud was the parade's only impediment.
Dr. Kunchok Dorjee brought his wife and son from Chico to take in the spectacle.
The couple, whose families hail from Tibet, lived in exile in northern India before moving to Northern California.
"Even in the United States, we maintain our own culture," Dorjee said. "But we identify with the Indian people. We like the food and their good nature."
The couple said they want their son, who is in the seventh-grade at a Chico junior high school, to appreciate and understand a multitude of cultures.
"He studies world history now," Dorjee said. "And we want him to see things, not only from a book."
CONTACT reporter Nancy Pasternack at 749-4781.
####
And in the U.K...

Sikh parade attracts 20,000 worshippers
Express & Star News
http://www.expressandstar.com/news/2011/11/07/sikh-parade-attracts-20000-worshippers/
More than 20,000 worshippers took part in a religious procession to celebrate the birthday of the Sikh founding father Sri Guru Nanak Dev Ji.
Bright sunshine and dry weather helped to swell the crowds at the annual walk from West Bromwich to Smethwick held yesterday. The parade, which is one of the biggest to take place in the West, is called a Nagar Kirtan.
Among the participants was Kulbant Singh, aged 54, of Oak Road, West Bromwich, and his family.
"It brings everybody together, Sikhs and non-Sikhs," he said.
"It is about everybody praying and thinking about God. It's also good to see people taking part and keeping up the traditions.
"There is free food and fruit and cups of tea being served.



"Sikhism is all about peace, love and respect for others. We also believe there is only one God," the Sandwell college lecturer added.
Guru Nanak Dev Ji was the first of the ten gurus and was born in 1469.
The parade followed a route from the Guru Har Rai Gurdwara, in High Street, West Bromwich, to the Guru Nanak Gurdwara in High Street, Smethwick. It lasted more than three hours.
Gurinder Josan, a trustee of the Smethwick temple, said: "It has gone really well, the people have enjoyed themselves, and the weather has been fantastic.
"A lot more people have turned up than in previous years.
"Lots of families came out, and we have had a really excellent day.
"We're still estimating the number, but so far there seems to be at least 20,000 people."
The Nagar Kirtan was jointly organised by the eight Gurdwaras in Sandwell.
It also featured open-air prayers and drumming.

Photo courtesy : T
he Sacramento Bee
sacbee.com